Courtney Stodden Can't Spend The Night With Hubby On Couples Therapy Due To Child Labor Laws!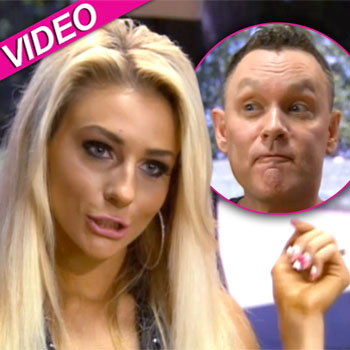 Article continues below advertisement
Because Courtney was only 17 when the reality show filmed, she wasn't allowed to spend the night at the home after a long day of filming due to child labor laws, so she left Doug alone in the house, which was the first time since their 2011 marriage that they spent the night apart.
Courtney and Doug had their first meeting with the counselor who asked the couple how they met and began their relationship.
The Teen Bride explained that they met through a mutual friend and their relationship blossomed from there.
"Our exchange at some point in time evolved into more personal questions and slowly, but surely we fell in love with one another," Doug explained.
Dr. Jenn asks why, since Courtney was legally a child, they didn't wait until she was 21 to get together.
"I wasn't thinking responsibly," Doug said. "To be fair, I truly wasn't thinking responsibly. I was thinking with my heart."
Article continues below advertisement
Dr. Jenn asked why they didn't just date and if they got married just because they wanted to have sex.
"I won't lie to you it wasn't the farthest thing from my mind because she is this beautiful sexy woman, but it wasn't the prevalent thing on my mind," Doug confessed.
"It wasn't primary motivation, I found true love."
Courtney agreed with her husband. "I didn't want to wait either, I pushed it because I wanted to be with you.
"Someone that looks like me physically… I had so many men, write me, follow me home, I knew that I wanted to wait 'til I found that one person that I felt safe with."
Dr. Jenn then questioned Courtney's hyper-sexual way of dressing, and asked her if she had ever been sexually abused.
"No I have not been sexually molested, touched in any way. I just feel more comfortable that way," she asserted.
Courtney said she likes wearing skimpy clothing, telling Dr. Jenn: "I have a good body I'm enjoying my youth now."