Exclusive
Finally Legal! 'Teen Bride' Courtney Stodden Turns 18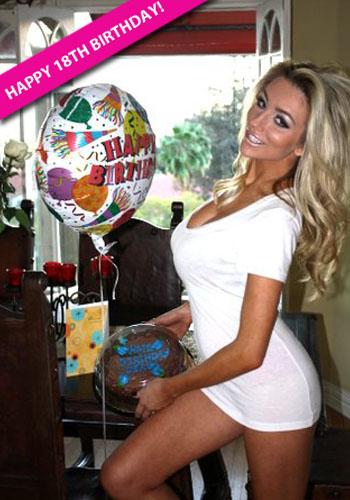 Article continues below advertisement
"She's just having dinner with her husband to celebrate."
When she was just 16 years old, Courtney shot to overnight fame when she married 51-year-old Green Mile actor Doug Hutchison in a quickie Vegas wedding.
Her mom and dad told RadarOnline.com at the time that they were thrilled about their daughter's shocking marriage and Courtney soon become a household name, known for her provocative Tweets and uber sexy photos she shared with the world.
The Teen Bride's fame has grown since then, with Courtney being photographed daily walking around Los Angeles in her sky high clear stripper heels while she defends the body that no one could believe was real – even going so far as to take a test on TV to prove she didn't have fake boobs.
"I'm 100% natural and real," Courtney has always told RadarOnline.com.
She's now starring in her first reality show, the controversial Couples Therapy, where her hubby and The Dirty founder Nik Richie have battled it out but she maintains her sunny but sultry outlook on life, Tweeting this week: "Only 2 more days until I get to blow eighteen ... ummm ... candles ;) xxx"
Article continues below advertisement
For her 17th birthday, her hubby Doug gave her a shopping spree at her favorite store, Victoria's Secret, but for her 18th, he was a little more traditional, surprising her with an Italian Greyhound dog that they've named Dourtney, the nickname the couple uses for themselves.
Courtney's mom Krista Stodden exclusively told RadarOnline.com that now that she is legal there are big things in store for her.