Celebrity Twitter Pics Of The Week! The Good, The Bad & The Outrageous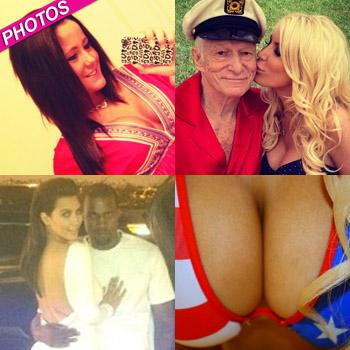 Article continues below advertisement
What better way to celebrate independence than in a bikini? Heidi Klum, Courtney Stodden, Miley Cyrus, Linda Hogan and Crystal Harris all uploaded images of their assets on the 4th of July, leaving little to the imagination with their nearly naked attire.
Kim Kardashian and Kanye West continued to flaunt their romance and fabulously rich lifestyles in white hot fashion. After the BET Awards, wearing his-and-hers white ensembles, the hip-hop star and his reality bombshell gal pal posed for a pic in front of his uber-expensive matte black Lamborghini before they jetted off for the Paris shows.
Leave it to Aubrey O'Day to up the inappropriate ante! The former Danity Kane babe got sexy on the beach with her beau, sharing a steamy photo of their sandy romp with her fans.
For all the good, the bad and the most outrageous celebrity Twitter photos of the week, click here.