Celebrity Twitter Pics Of The Week! The Good, The Bad & The Outrageous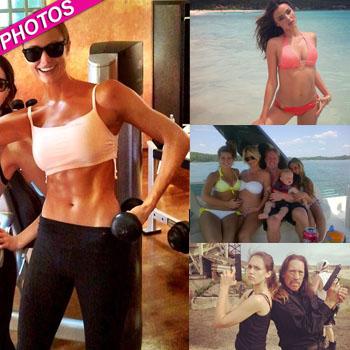 Article continues below advertisement
Stacy Keibler knows how to kill two birds with one stone. After pregnancy rumors surfaced, the hot-bodied wrestler girlfriend of George Clooney took matters into her own hands, joining Instagram and uploading a photo of her rock hard and baby bump-free abs.
It's hard not to "hassle the Hoff" when the former Baywatch star engages in inappropriate behavior! David Hasselhoff celebrated Father's Day, by sharing a photo of his nearly naked and much younger girlfriend. "My other fathers day present!!! @hhayleyroberts what did you get??" he creepily captioned the image of his fiancée, Hayley Roberts, who is almost 30 years his junior.
When it comes to outrageous behavior, leave it to Ice-T's crazily curved wife
Coco to shock with her weekly snaps. The busty blonde modified her Thong Thursday feature, posting a TMI image of herself. "Thongless Thursday….Admiring the view from my room in Trump SoHo NYC..its just fabulous!"
LeAnn Rimes was not far behind her, though, sharing a photo of Eddie Cibrian's "Eddie's favorite things" birthday cake, which featured a cake topper of the couple in bed together, with his two sons from Brandi Glanville standing right underneath. For all the good, the bad and the most outrageous celebrity Twitter photos of the week, click here.