Celebrity Twitter Pics Of The Week! The Good, The Bad & The Outrageous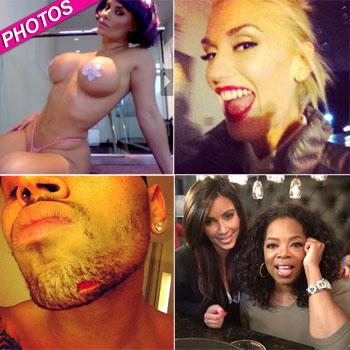 By Leah Ornstein - Radar Features Editor
Hollywood's hottest celebrities are their own personal paparazzi!
From crazy bar brawls to mother and transgender son bonding, Hollywood's hottest stars were not bashful about sharing their private snapshots this week on social media, and RadarOnline.com has all the good, the bad and the most outrageous Twitter pics of the week in our special feature.
Kim Kardashian was clearly excited to be hanging out with Oprah! The reality bombshell posted a photo of herself with the media giant, from their time spent together shooting Oprah's Next Chapter. The Kardashian klan will be featured on the show this Sunday.
Article continues below advertisement
Chris Brown should have thought a little harder about trying to get sympathy from his war wounds! After getting in a bar brawl with Drake over his ex-girlfriend Rihanna, the rap bad boy posted a photo of his cut up face, which wasn't even a fracture as messed up as RiRi's face looked after he lashed out at her during the infamous Grammy weekend incident.
As for outrageous, Courtney Love scored the top honors this week. Giving Hole a double meaning, she donned a cut up shirt that totally bared her boobs in the racy image.