Celebrity Twitter Pics Of The Week! The Good, The Bad & The Outrageous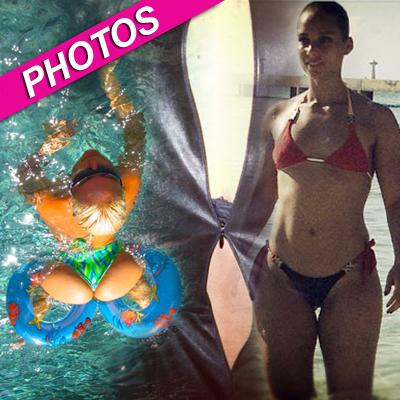 Article continues below advertisement
Does Heidi Klum have a new 'Boyfriend'? No, the statuesque supermodel isn't a cougar – she's just a Bieliber! Justin Bieber joined the sexy single on Germany's Next Top Model finale to sing his hit song.
Stars are definitely not like us! After Kim Kardashian suffered a mortifying wardrobe malfunction at Jimmy Kimmel Live!, the reality bombshell retreated backstage, where her team got busy tending to her famous physique and stitching up the split in her tight leather dress. Oh yeah, and Kim made sure to capture the disaster on camera.
Oh, Coco! The bootylicious reality star showed off her massive floating devices, while enjoying an afternoon in the pool. 'Look mom no hands!! I got booty floaties,' tweeted the always outrageous blonde.
From Victoria Beckham's dog dressed up in one of her Posh frocks to Tyra Banks' latest cougar conquest, see all of the good, the bad and the most outrageous Twitter pics of the week, by clicking here.