Celebrity Twitter Pics Of The Week! The Good, The Bad & The Outrageous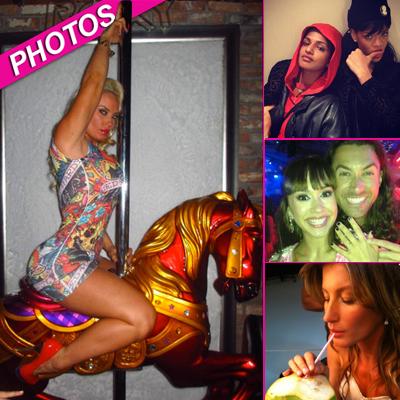 RadarOnline.com Features Editor
Hollywood stars love sharing their personal photos with their fans on Twitter, even though some of them aren't exactly appropriate!
From the Cannes Film Festival to the American Idol finale, stars were tweeting up a storm this week, uploading their personal snaps for the world to see , and RadarOnline.com has all the good, the bad & the most outrageous images in our weekly feature.
Article continues below advertisement
Watch the throne, and check out my man! Kim Kardashian is clearly Kanye West's biggest fan, hitting her new beau's London show over the weekend and tweeting a photo from backstage. The duo then went on to the Cannes Film Festival, where they put on a PDA show all over the place.
Kate Upton was also in the South of France, where she was shockingly wearing something more than a skimpy bikini. The Sport's Illustrated Swimsuit Edition cover girl dazzled in a Louis Vuitton gown, sharing a photo before she hit the luxe amFAr Gala.
For the rest of the good, the bad and the most outrageous Twitter pics of the week,click here!.