Teen Mom Jenelle Evans Is Engaged!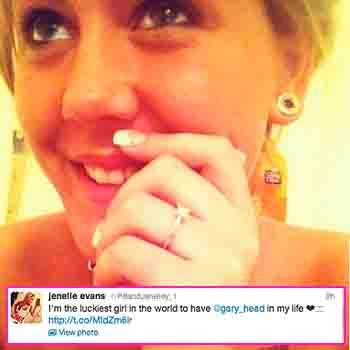 Radar Entertainment Editor
Trouble Teen Mom star Jenelle Evans has some big news: she's engaged to her on-again-off-again boyfriend Gary Head!
The reality star posted a picture on Twitter of her engagement ring and wrote, "I'm the luckiest girl in the world to have Gary Head in my life!"
Just weeks ago, Gary and Jenelle were broken up over claims that he was cheating on her and even hit her and she briefly reunited with her other troubled ex Kieffer Delp.
Article continues below advertisement
After the release of her nude photos following her boob job, Jenelle ditched Kieffer and got back together with Gary, but a source told RadarOnline.com at the time, "she changes boyfriends every 15 minutes."
This will be the first marriage for Jenelle, who lives in North Carolina, the state that recently passed a constitution amendment to ban same sex marriage.
Her struggles with being a teenage mother to her son Jace have been documented on MTV, so maybe Jenelle's engagement and wedding will be a reality show too!