Exclusive
Teen Mom Jenelle Evans' Ex-Boyfriend Hit Her Say Friends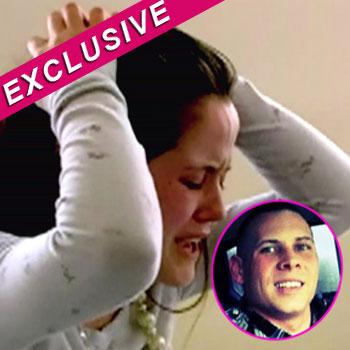 Jenelle Evans has called it quits with her Marine boyfriend, Gary Head, after publicly accusing him of battery and RadarOnline.com has exclusively learned that multiple friends witnessed the alleged domestic violence.
The troubled Teen Mom tweeted, "I'm very depressed. Me and Gary broke up for good," on Sunday shortly before deleting her account, and two sources close to the reality star said they saw Gary hit her, causing her to end the relationship.
Article continues below advertisement
In a series of tweets, Jenelle said her 22-year-old boyfriend didn't "give two f**ks how I'm feeling" and accused him of getting physical with her. While Gary denied ever hitting her, Jenelle's former best friend, Tori Rhyne, tells a different story.
"I tried to break Gary and Jenelle up one time, they were choking each other," Tori recalled. "We were all drunk and Jenelle took something to heart, or he said something to her about him sleeping with another girl or something like that. He was, like, telling Jenelle not to be worried about some girl, but to be worried about his ex girlfriend because 'she's f----ing sexy.' And Jenelle just freaked out because she's a really insecure person."
Another source close to the MTV star claims she has regularly seen Gary's abusive behavior up close.
"He is just a complete ass, I have seen him hit Jenelle and I have seen him cuss her out," the source said. "He's called her a nasty slut and a whore. He hits her but doesn't hit her in the face, he punches her in the arms and the legs."
FIRST PHOTO: Teen Mom Jenelle Evans In Rehab
The source, who calls Gary "detestable," claims they saw the two fighting as recently as last Wednesday.
Article continues below advertisement
"They were just arguing over stupid stuff, when they came in the house they were just fighting, I have no idea how it started," the source explained. "She said she was going to handle it. I saw them fighting the next day. He punched Jenelle in the back of the arm, me and him got into words, they left fighting. He came back and said they were broken up and I believe she broke up with him."
Tori also recalled numerous times when Gary would threaten the 20-year-old mom to her son Jace, 2.
"He's threatened to leave her before," Tori said. "And Jenelle's hit him a couple of times. And he'll grab her by her shoulders and he'll carry her off to the side to get him out of his way."
VIDEO: 'Teen Mom' PSA: We Should've Cuddled Instead!
"Andrew Lewis, Jenelle's baby daddy hit her when they were dating," Tori also claimed. "He's abusive when he drinks."
Gary, whom Tori believes was always using Jenelle for her fame and fortune, has already moved on, telling a Twitter follower of his, "I left Jenelle for someone better."