Jenelle Evans & Roommate Get Into Fist Fight On Teen Mom 2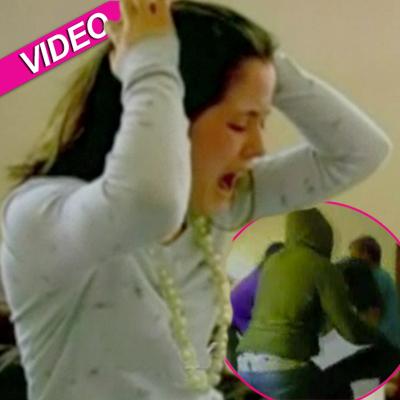 More bad behavior out of Teen Mom 2's Jenelle Evans.
The embattled North Carolina native, 20, clashed with her roommate Tori on Tuesday's episode after she noticed her boyfriend Kieffer sent a mysterious text message to an out-of-state area code, raising her antennas for the worse.
Jenelle's and Tori's skirmish began after Jenelle took a shot Tori's boyfriend Tylor, leading the two girls to launch into a nasty cat fight, complete with hair-pulling, punches, kicks -- and even the use of drum sticks -- as weapons.
Article continues below advertisement
The girls' bad vibes seemed to have a contagious effect, and soon the boyfriends Tylor and Kieffer began going at it.
Jenelle threw up the white flag at the end, yelling, "Just leave me alone!"
Watch the video on RadarOnline.com
Evans is hardly any stranger to trouble: Most recently, she was arrested this month for "communicating threats" and making "harassing phone calls" to her one-time roommate Hannah Inman.
Teen Mom 2 airs on MTV Tuesdays at 10/9c.