Exclusive
Gay Slurs, Child Molester Barbs, Bodyguards! Insane Drama Between Doug Hutchison & Nik Richie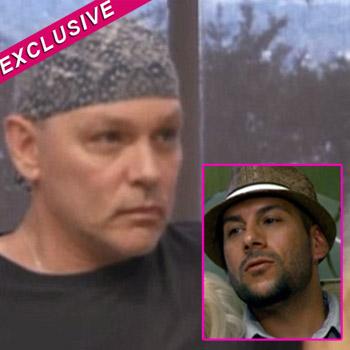 Article continues below advertisement
But that's far from the only barb Richie has thrown at the Green Mile star, and an on-set source tells RadarOnline.com exclusively that things got so bad between the two at one point that producers insisted they were both flanked by a bodyguard at all times!
"Nik and Doug absolutely despise each other," the source says. "It is certainly not all put on for the cameras, there's a real, genuine, complete loathing between these two.
"Nik is very good at articulating his disgust for Doug and puts him down at every single opportunity, he makes no effort to hide his disdain at Doug marrying Courtney and the child molester accusations that aired were just the tip of the iceberg!"
"From the moment Nik met Doug he told producers that he got a creepy gay vibe off of him, and Nik hasn't let up from that moment on — he's called him 'Michael Jackson creepy' and said he did not want Doug around his daughter when she came for an on-set visit.
Article continues below advertisement
"Doug has tried to defend himself against the barrage the best he can, but he is nowhere near as sharp tongued as Nik, and at times it's looked like things could turn physical between these two.
"It got so bad at one point that producers actually insisted that both Doug and Nik have a security guy allocated to them at all times to prevent a fight breaking out between them!"
Meanwhile, the insider promises that there's plenty more drama to come as Doug becomes ever increasingly unravelled as he spends more and more time away from his Courtney -- who is not allowed to be on set full time and has to spend the night away from Doug, due to child labor laws.