Exclusive
Teen Bride Courtney Stodden Is Winning, But Not For Her Tweets!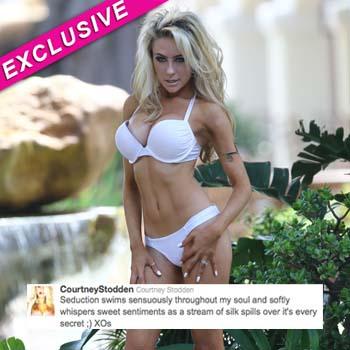 By Alexis Tereszcuk - Radar Senior Reporter
She's winning, but not for her ever increasingly sexy Twitter missives!
Teen bride Courtney Stodden has had a banner year, shooting to fame after her controversial marriage to her 51-year-old actor boyfriend Doug Hutchison when she was just 16, and she's finishing up 2011 on a winning note.
A source exclusively tells RadarOnline.com that Courtney has been selected as one of VH1's 40 Winners of 2011 and the 17-year-old bombshell is thrilled.
Article continues below advertisement
Tying the knot at 16 with her parent's permission in May, Courtney is open with every detail of her life, from the fact that her breasts are 100% real, to the TMI rundown of her wedding night, to the intimate, and somewhat bizarre, Tweets she writes.
"Seduction swims sensuously throughout my soul and softly whispers sweet sentiments as a stream of silk spills over it's every secret ;) XOs," Courtney wrote on Twitter Wednesday.
Following with: "Lacing down my provocative garter as a glimpse of the gleaming sun gushes intimately in upon me & grapples a taste of my gingering essence," and "My dangerously desirous hunger is sweetly appetizing for a hot soppy cream-cone that fluently overflows w/nothing but ssslippery excitement!"
The VH1 show will air December 7, and regardless of if Courtney secures the top spot or not, she will always be a winner on RadarOnline.com!