Exclusive
Fresh Faced Teen Bride Courtney Stodden's First Bikini Modeling Job: With Her Sisters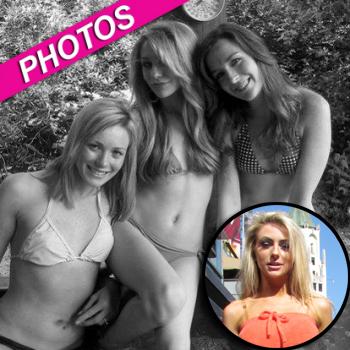 Senior Radar Reporter
Before Teen Bride Courtney Stodden was kicked out of a pumpkin patch for being "too sexy" she was a fresh faced young model and RadarOnline.com has shots of her first photo shoot – and she was with her two gorgeous sisters!
The 17-year-old sexpot signed with a modeling agency "four or five years ago," her mother Krista exclusively told RadarOnline.com, and "she loved every minute of it."
Article continues below advertisement
Courtney and her older sisters, Ashley and Brittany, posed for the photographer in their bikinis, and her mom said the girls all had a great time at the shoot.
"Courtney was around twelve or thirteen in these pictures, believe it or not this was her first photo shoot!
"This is the first time anyone is seeing Courtney's whole family," her mom said. "All my girls are just beautiful and we're so proud of them."
Courtney's unconventional marriage to 51-year-old actor Doug Hutchison has skyrocketed her to fame, and opened her up to criticism of her sexy wardrobe and heavily made-up face, but her mother defends her daughter to RadarOnline.com.
"If Courtney didn't wear makeup today she would look exactly like these pictures.  She loves wearing makeup and the only thing she does is wear it extravagantly.
"She doesn't drink, she doesn't do drugs, if she wants to wear makeup, let her be!"