'Too Sexy' Courtney Stodden Kicked Out of Pumpkin Patch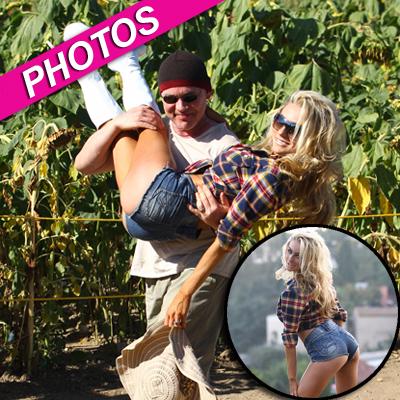 'Teen bride' Courtney Stodden and husband Doug Hutchison were tossed from a pumpkin patch in the Santa Clarita Valley over the weekend, after fellow pumpkin prospectors complained the amorous May-December couple had behaved inappropriately at the family-geared venue.
Onlookers also complained that Courtney -- wearing Daisy Dukes and a plaid shirt tied to show off her flat belly -- was not dressed appropriately for the patch. After Courtney, 17, and Doug, 51, were 86'ed from the patch, they went to a nearby area where Courtney struck some sexy poses for the camera.
Article continues below advertisement
Courtney presumably referred to the incident on her Twitter page, writing: "Have a beautifully blessed Sunday! :) "Do not judge by appearances, but judge with right judgment." John 7:24"
While Courtney's parents have pledged their full support to their daughter's marriage to The Green Mile star, the unlikely duo has raised some eyebrows since going public with their marriage.
When we exclusively asked Courtney how she plans to further her education last month, she said she "would go to college and study all of Doug ... all of his body, and all the elements within that. What they do and what they still do. It would be a lot of fun."