Put Some Clothes On! Courtney Stodden Ordered To Cover Up Or Leave Couples Therapy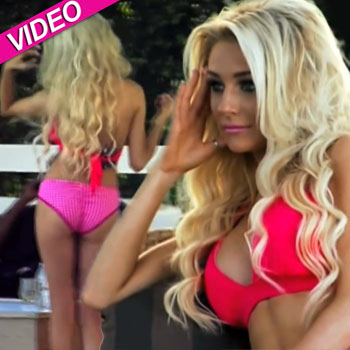 Teen bride Courtney Stodden has been given an ultimatum — wear clothes covering your boobs, midriff and butt or leave the Couples Therapy house!
Relationship therapist Dr. Jenn Berman put her foot down on the latest episode of the VH1 reality TV series after other members of the cast complained about the teenager's scanty attire.
The Beverly Hills doc took Stodden and her 52-year-old husband, actor Doug Hutchison, aside after confessing to viewers at home that "several other couples" complained to her "privately" about what Stodden was wearing — or NOT wearing as the case may be!
Article continues below advertisement
She told the then 17-year-old (who turned 18 August 29): "After much careful thought and consideration I have decided to implement a dress code.
"Your attire is affecting the way other people are doing therapy and I think it's not fair to the other group members to have that distraction in the house."
The doctor added: "I feel like your identity is very tied into what you wear and how people react to you. I want you to have the opportunity to try something different."
She also laid down the law saying she no longer wanted to see Stodden's "bare midriff." She said: "No boobs coming out and crotch appropriately covered so that when you sit down your underwear is not showing."
But Stodden was not happy about the new rule and accused her critics in the house of being "hurt" and "damaged."
She said: "I am not damaged…. I have a following of people who support me for how I present myself. I do it for people who are different and I'm their voice. I have saved many lives."
Article continues below advertisement
The teen, who walks around in public wearing plunging necklines and butt-skimming hemlines, even challenged the therapist saying: "I know you are a psychologist…but it doesn't mean every single time you're going to be right."
But Dr. Berman stuck to her guns, saying: "This dress code is non-negotiable… If she can't follow the rule then I'm going to have to ask her to leave."
If Stodden is kicked out of the house it will be a blow to her husband who already pines for her when she is away from the set. As RadarOnline.com previously reported, Stodden was banned from sleeping at the house due to child labor laws because she was a minor at the time the show was filmed.
In the latest episode Hutchison drew a chalk mural over their bed, which included the words: "Dourtney > Doug + Courtney."
Nik Richie, who is married to Shayne Lamas, mocked Hutchison after seeing the wall. He said: "What is Dourtney? Ah, Dourtney? He's trying to be like Brangelina because they're big time celebrities…
"This is definitely a child's room.
It's got that vibe – it's got that creepy vibe."
Article continues below advertisement