Courtney Stodden Says Dads At The Pumpkin Patch 'Loved' Her Outfit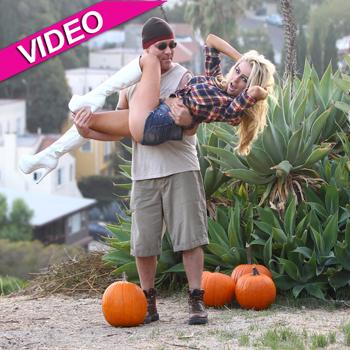 Article continues below advertisement
"Courtney was dressed in sort of a Daisy Duke like thing," Doug told Dr. Drew, and his 17-year-old bride said that it was the moms that didn't want her there.
"The women were coming up to the manager complaining, because of the kids," Courtney said in the clip obtained by RadarOnline.com, while dressed in a super sexy hot pink dress that showed off her ample cleavage.
"The dads loved it!" she said about her risqué outfit.
"There were a lot of people there who were enjoying it," Doug said. "One dad told his little daughter 'oh look honey they have a pumpkin patch girl this year.'"
Courtney agreed, and said she was the "Pumpkin Patch Princess!"
Courtney and Doug will go into more details about the pumpkin patch incident, along with their unconventional relationship, to Dr. Drew on Dr. Drew's Lifechangers airing Monday, Nov. 7 at 3:00 p.m. ET/PT on The CW.
Watch a sneak peek of the episode of Lifechangers below: