Courtney & Doug Put On United Front Amid Concerns For How Hutchison Is Handling Stodden's Relationship With Ex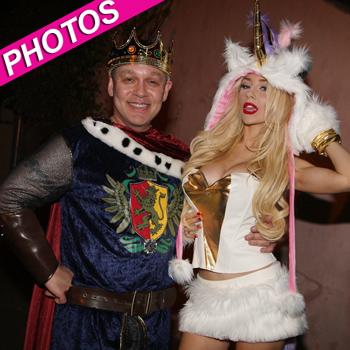 Courtney Stodden has never been bashful about keeping her assets under cover, so it isn't shocking that the teen bride celebrated Halloween in super skimpy style!
The barely legal wife of 52-year-old Doug Hutchison dressed up as a "sexy unicorn" for Halloween, and RadarOnline.com has the racy photos.
Wearing a white and gold lame Josie Stevens Josie Loves J. Valentine costume that showed off her crazy cleavage, the Couples Therapy star was definitely the center of attention, joined by her husband, who was dressed as the "King of the Unicorns."
Article continues below advertisement
The couple made sure to pack on the PDA as they returned from a neighborhood Halloween party, with Courtney dancing around as Doug kissed her neck.
As RadarOnline.com exclusively reported, Couples Therapy staffers have expressed concern over how Hutchison appears to be dealing with the news that his teenage wife is still in contact with her ex-boyfriend.
"Doug seems like he is worried about Courtney leaving him, and he gets really upset whenever he thinks about the possibility of his marriage ending," an insider previously told RadarOnline.com.
"He had real difficulty dealing with Courtney not being able to sleep at the house during filming of the show, and was freaked out by her not being there with him constantly. It's like he is terrified of her spending any time away from him. He appears to be very insecure about their relationship and the possibility of her leaving him.
"Everyone thinks that Doug would be crushed if Courtney were ever to leave him for a younger guy, and everyone is really worried about how he would handle that situation should it arise."
Article continues below advertisement