Behind Murder-Suicide Tragedy: NFL Player Nearly Cut Off His Thumb In Incident Over ANOTHER Woman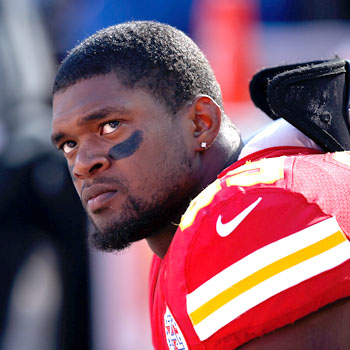 By David Perel - Executive Vice President/Managing Editor Radar
Kansas City Chiefs linebacker Jovan Belcher nearly cut off his thumb in an incident involving a woman years before his murder-suicide, RadarOnline.com is reporting.
As police, family and friends attempt to understand and find the cause behind Belcher's horrific actions Saturday when he shot and killed longtime girlfriend Kasandra Perkins, the mother of their daughter, a new police report has surfaced showing more unstable behavior.
Article continues below advertisement
With his horrified mother watching, Belcher kissed Perkins on the head after murdering her, as RadarOnline reported earlier. He then drove to his NFL team's facility and committed suicide in a parking lot.
Now a 2006 police report from the University of Maine Police Department has been unearthed and it shows Belcher in a violent rage over a woman.
"I responded to Andros Coggin Hall to assist UVAC for a report of a male subject with a serious cut to his arm," Sgt. Scott Curtis wrote in the official report.
"It was reported that the subject had punched out a window. When I arrived, I found Jovan Belcher … being treated by UVAC. The injuries consisted of possible severed thumb and lacerations to the wrist."
Belcher self inflicted the injuries by punching a window while upset over a woman.
"I was told that Belcher was upset over a girl and punched a window out. There was a lot of blood outside of the west entrance and in the lobby." Curtis wrote.
Article continues below advertisement
"I noticed the window to the interior, ground floor door, to the center stairwell, broken out. A picture was taken. A custodian was called for a clean up and also a glazier was called in for repair to be done on the window.
"Belcher referred to Judicial Affairs for disorderly conduct and for restitution."
The proof of Belcher's prior erratic behavior comes as one friend told Deadspin that the football player had been hit in the head hard during a recent game and was drinking heavily and taking prescription pills.