Pro Football Player Kissed Girlfriend After Killing Her - Shocking New Details From Murder-Suicide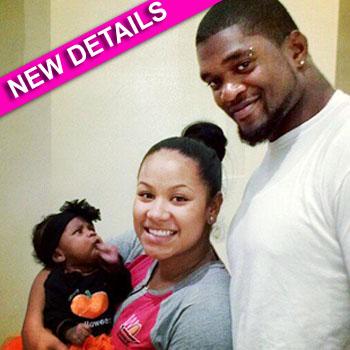 By David Perel - Executive Vice President/Managing Editor Radar
Pro football player Jovan Belcher murdered the mother of his child and tenderly bent down, kissed her on the forehead and apologized.
READ: Police Report From Murder Scene
That is one of the shocking and sickening new details that have emerged since the Kansas City Chief's murder-suicide early December 1, an act with tremors felt far beyond the world of sports.
Article continues below advertisement
Significant new details are emerging from theBelcher case, RadarOnline.com is reporting, including:
Belcher was drunk and with another woman, just hours before the tragedy.
The linebacker was hit in the head several times during an NFL game, raising questions about his ability to think clearly if he suffered from a concussion.
He was mixing alcohol and prescription pills immediately before committing the murder suicide.
Before shooting Kasandra Perkins, 22, with his mother in the house, Belcher, 25 said to his girlfriend, "You can't talk to me like that," reports the Kansas City Star.
After shooting Perkins nine times, Belcher bent over, kissed her on the forehead and said her was sorry – an act witnessed by his mother, according to the paper, relying on police sources.
He then apologized to his mother and drove to the team's facility where he killed himself in front of the head coach and others.
But the night before, Belcher was with another woman and was so drunk he slept in his Bentley for several hours before being roused by police, according to the New York Post.
Belcher had dinner and drinks with Brittni Glass on Friday night. "I was with him that night, that's it," Glass told the Post. She says they are not in a romantic relationship, although neighbors described seeing his car in front of her place several times in the past few weeks.
Article continues below advertisement
When cops roused Belcher early in the morning he went into Glass' home for about four hours, according to the Post. He left from there and went to the home he shared with Perkins.
But Belcher and Perkins had been having relationship problems for several months, and the NFL team had tried to help, making counseling available to them, according to the Star.
The Chiefs "were bending over backward" to help, one law enforcement officer told the Star.
Meanwhile, the NFL has been under scrutiny the past two years for how it treats players with concussions. A friend of Belcher's claims that the linebacker was hit in the head hard in a game before the murder-suicide.
The friend also told Deadspin that Belcher was mixing a heavy intake of alcohol with prescription pills.
The report raises the troubling question: could head trauma, alcohol and prescription drugs have combined to play a preventable role in the tragedy?
Article continues below advertisement
Belcher "was dazed and was suffering from short-term memory loss," Deadspin reported.
The friend, who did not want his name used, said the couple had been fighting over their daughter for weeks, with Perkins moving out at one point. That stress and the other factors built to a deadly crescendo.
After being hit in the head during a game against Cincinnati, Belcher "could not remember the events that had taken place prior to that game or what he had said to get Kasi to return home.," the friend told the Web site.