Bradley Cooper Unfairly Censored By NFL Says Producer Harvey Weinstein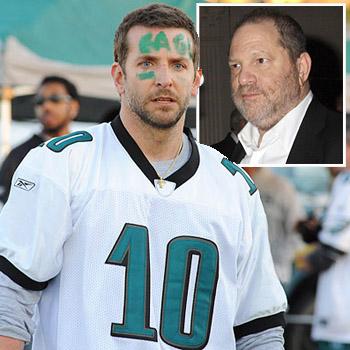 Bradley Cooper and his new movie, Silver Linings Playbook, are getting serious Oscar buzz, but the film is also at the center of a controversy over censorship.
"The NFL had asked Bradley Cooper and Chris Tucker to do an interview for their podcast and be on the NFL network," explained the movie's executive producer Harvey Weinstein on the Reuters web series, Impact Players with Robert Wolf, "Then the NFL pulled the interview," said Weinstein, alleging it was about gambling and the NFL couldn't support gambling.
Article continues below advertisement
The movie has a football theme, and there is a "little bit about gambling," but it is not about gambling. "It is about family and relationships and second chances," explained Weinstein, adding that the people at the NFL -- including the commissioner -- hadn't even seen the movie before making their decision!
Weinstein said the film had been seen by the owners of several teams, including the Philadelphia Eagles, a team that figures prominently in the storyline, and they all loved it.