Exclusive
'I Can Never Escape' OJ Simpson, Says Alleged Murder Victim Ron Goldman's Sister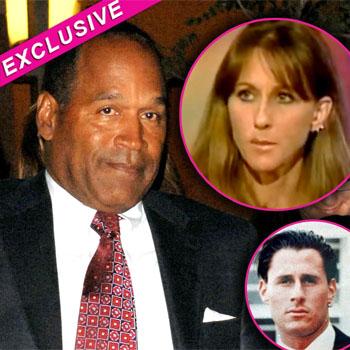 Article continues below advertisement
"It is a blessing and a curse, everyone got to meet my brother and mourn the loss of him, but at the same time – everyone gets a piece of it."
As RadarOnline.com previously reported, a new documentary about a shocking claim made by a Florida serial killer on death row that it was he who killed Ron and Nicole is set to air on Investigation Discovery on Wednesday night, however Kim has refuted Glen Rogers' confession to the horrific double murder.
"I am kind of used to people talking about it because of the notoriety of the case. It is still a highly contested topic. It is still the subject of jokes on late night TV and the plots of crime shows," explained Kim.
As for the latest scandalous story, she considers it to be the boastings of a convicted killer with too much time on his hands. "He is on death row, what else does he have to do? All these conspiracy theories about the son, or anyone else committing the murders never makes any sense as there is nothing to back it up. It's diminished by the mountain of evidence that only points to one person."
Article continues below advertisement
When asked point blank by RadarOnline.com who that "one person" was who she prefers to refer to as "the killer," Goldman simply replied: "I do believe OJ did, it, I just choose not to say his name."
"He confessed in his own book, If I Did It, it wasn't a fabrication. All the evidence points to him," she said.
"We proved it in a civil case, which I think for us was really holding him accountable and having it in writing that he killed my bother and Nicole. He didn't pay, and we've been chasing him around for that so I don't feel justice is served but it is in the books," explained Kim, who is now a victims' rights activist.
Despite after what many believe was a gross evasion of justice, the former NFL star still didn't value his freedom enough, and was subsequently convicted of an armed robbery at a Las Vegas hotel where various sports memorabilia was stolen. On October 3, 2008 – exactly 13 years after his initial acquittal – O.J. was found guilty of all 10 charges and sentenced to 33 years in prison with the eligibility of parole after nine years. A judge has recently agreed to reopen the case.
Article continues below advertisement
Even almost two decades later after the double murder, Kim said the pain of her loss runs incredibly deep.
"I hate the word closure. There isn't any way to explain how I feel," she revealed. "I don't live in a pity party, I am a victim advocate as a result of my brother's death but I would give it all up in a millisecond to have him back.
"Everything is as a result of my bother's murder. He is my only sibling. My nine-year-old son never even got to meet him. I hope some good comes from what we do. For a very long time I had rejected some of the notoriety and protected my privacy," she said, of her work at the non-profit SVC Youth Project.