Exclusive
Ron Goldman's Sister Insists It WAS OJ Simpson That Killed Her Brother, Not Florida Serial Killer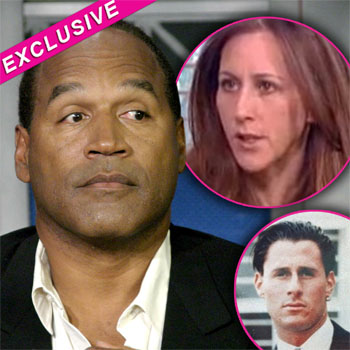 By Debbie Emery - RadarOnline.com Reporter
The new documentary about a shocking claim made by a Florida serial killer on death row that it was he who killed Nicole Brown Simpson and Ron Goldman and not O.J. Simpson has caused outrage among the victim's family, RadarOnline.com can exclusively reveal.
"I think the show is irresponsible and disrespectful," Kim Goldman, sister of murder victim, Ron, told RadarOnline.com in an exclusive interview. "I have never heard of this claim before. The producers of the show have never contacted us. As an investigative TV show, you would have thought they would have contacted the family of the victim.
Article continues below advertisement
"I find it shocking and sad."
As RadarOnline.com previously reported, the subject of the family's wrath is the alleged confession from serial killer Glen Rogers, who is closely profiled in a new documentary by Investigation Discovery called My Brother The Serial Killer, which included interviews with family members, police and legal officials.
Rogers, who has been convicted of two murders and boasted of killing as many as 70 people, told family members that he'd partied with Nicole Simpson in the time before she died and bragged to pals that Nicole was wealthy and he was "going to take her down."
While the documentary purports the theory that Rogers did the notorious double murder, Kim reveals that the producers never called her or other family members to interview them or alert them of their alleged new break in the case.
"I don't know why he would say that, maybe I had seen him on the news at some point but I don't recognize him," said Goldman, regarding the man who is now being connected to her brother's death. "I did not try to shut the show down though as a part of me thinks that they don't believe there is any validity to the story anyway or they would have gone to the police."
Article continues below advertisement
According to the documentary, Rogers later told a criminal profiler that Simpson had hired him to steal back a pair of expensive earrings from Brown and allegedly told him that "you have to kill the b***h," but Kim thinks his boastings are just the case of a man with too much time on his hands.
"He is on death row, what else does he have to do?" she asked. "It is not unusual for criminals to confess to other crimes. He has nothing else to do.
"There is no proof that anyone other than the killer committed these murders as far as I am concerned," said the victims' right advocate and Executive Director of the Santa Clarita Valley Youth Project.
"I am kind of used to people talking about it because of the notoriety of the case, it is still a highly contested topic. It is still the subject of jokes on late night TV and the plots of crime shows," she revealed.
Article continues below advertisement
Despite the multitude of conspiracy theories over the past 18 years, "this is different, as it is someone claiming to have done it – I don't think that has happened before.
"I think the only people who will believe him are those who don't believe the killer did it, and are determined to believe anything else that comes out. Everyone else saw the case and the trial and the evidence and they only believe that it is him," she said, referring to former NFL star Simpson.
"If you are going to believe that this man was hired and had receipts to back up his story, it still doesn't exonerate Simpson. He is still culpable. I do believe OJ did, it, I just choose not to say his name," Kim explained.
While she has tried to move on since the 1994 slayings and subsequent 'trial of the century' and acquittal on October 3, 1995, Kim revealed how the grim reality "can be in my living room and on my lap at any given time, I never escape it."
Article continues below advertisement
If given the chance to respond to My Brother The Serial Killer, "I would tell Discovery that for an investigative journalism network, they put their ratings before what was right," she told RadarOnline.com.
"Show some respect and give us a warning. I didn't need to wake up to someone confessing to my brother's murder when I was getting my son ready for school.
"This was something that was brewing, so you had time to take it to an investigator or the police. I haven't seen the show yet, they may be making a mockery about it for all I know."
Despite her disgust at the allegations and the behavior of the network, Goldman said she will most likely watch the episode when it airs on Wednesday, "because I don't like to be uneducated."
Although he was found not guilty in the criminal trial, Simpson was found liable for the deaths of Ron and Nicole in a 1997 civil trial brought by the two families.
Despite after what many believe was a gross evasion of justice, he still didn't value his freedom enough, and was subsequently convicted of an armed robbery at a Las Vegas hotel where various sports memorabilia was stolen. On October 3, 2008 – exactly 13 years after his initial acquittal – O.J. was found guilty of all 10 charges and sentenced to 33 years in prison with the eligibility of parole after nine.