Exclusive
NBC's Bob Costas Slammed For 'Lazy Reporting' Following NFL Murder-Suicide Gun Control Rant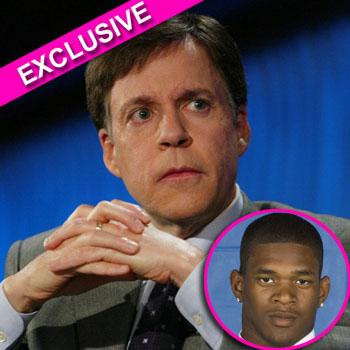 Article continues below advertisement
"In the coming days, Jovan Belcher's actions and their possible connection to football will be analyzed," said Costas in a 90-second commentary during halftime of the Dallas Cowboys and Philadelphia Eagles game. "Who knows?...If Jovan Belcher didn't possess a gun, he and Kasandra Perkins would both be alive today."
As we previously reported, the 25-year-old linebacker shot and killed girlfriend Kasandra Perkins, 22, on Saturday morning after the pair got into a heated argument, then traveled five miles to the Chief's Arrowhead Stadium where he was met by general manager Scott Pioli and coach Romeo Crennel, and Belcher thanked them for all they'd done for him.
The couple is survived by their three-month-old daughter, Zoey, who is currently being looked after by Belcher's mother.
"I think everyone was a little disappointed by the way a lot of the top tier sportscasters were reporting the case," Michael Bilello, President and CEO at Centurion Strategies, a public relations and marketing agency that handles high-profile athletes, told RadarOnline.com in an exclusive interview. "Bob Costas talking about gun control is just lazy reporting, that is the easy reason to always go to but let's focus on the individual and responsibility and counseling and support programs that are available to these players."
Article continues below advertisement
Gun control shouldn't even be an issue in the mainstream coverage of the tragedy, argued Bilello, especially in light of the fact that both the handguns in Belcher's house were legally registered to him. Permits are not necessary to buy a gun or keep one in your vehicle or home in Kansas City, Missouri. "You don't have to have a permit to own a gun," explained police spokesman Darin Sapp.
With so many details of the case still unknown, Bilello believes it was a gross mistake for Costas to assume he knows what caused number 59 to pull the trigger.
"One thing that we have all been told in the media is that when you wield the power of the pen -- or the microphone -- you have got to really think about what you are saying. For Costas to go for the easy-to-blame route was not the best use of his three minutes," said Bilello.
"It would have been much more difficult for him to bring up a sensitive topic like domestic violence or anger management, especially as we do a very good job in this country teaching young men how to be angry and popularize a culture of gun play.
Article continues below advertisement
"Belcher's gun was legally owned, and if he hadn't had access to a firearm, he could have used a stapler or his bare hands in its place," Bilello argues.
"This was a very imposing guy who has played for years in the physically demanding professional football world, is Bob Costas going to call for a 'hand ban' next in his bid to prevent these kind of incidents and cut everyone's hands off too? That's ridiculous!"
While Costas has not personally responded to the criticism, on Monday night, NBC spokesperson Greg Hughes released a statement on his behalf, saying the veteran sports journalist, "feels an unfortunate leap was taken that he was advocating taking away Second Amendment rights. He was not.
Hughes added: "In a short (on-air) time period he can cover only one aspect of a complicated issue. So he quoted (columnist Jason Whitlock) about the gun culture and an almost Wild West attitude in parts of this country. He is pro-sensible gun reform and pro-attitude adjustment on guns."
Article continues below advertisement
Hughes also said Costas is "in favor of people owning guns to hunt and carrying them in reasonably controlled circumstances."
On Monday, family members representing both of the victims made statements about their loss.
"The impact that this inconceivable tragedy has had on our heart is immeasurable; we are overwhelmed with both sadness and confusion," said the Belcher family, reported Yahoo! Sports. "The man we know and loved for 25 years embraced life and excelled at all he put his energy behind. Jovan was overjoyed when Kasandra gave birth to their daughter, Zoey.
"He was happy to be a new father; both he and Kasandra loved Zoey greatly."
Belcher's teammate Jamaal Charles suffered a double loss because his wife was first cousins to Perkins. "Kassandra was not only family, but a friend and a loving mother. As my actual family and my Kansas City Chiefs family have been altered forever, we ask that you keep us and most importantly their child in prayer," said the running back.