Expert On Kansas City Chiefs' Jovan Belcher Murder-Suicide Tragedy, 'NFL Needs To Offer More Support To Players'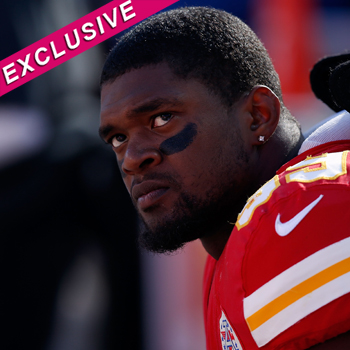 By Debbie Emery - RadarOnline.com Reporter
Kansas City Chiefs player Jovan Belcher's tragic murder-suicide has meant not only the loss of two young people's lives and made a little girl an orphan, but has also put every member of the team's organization in a potentially difficult situation, a sports industry expert tells RadarOnline.com exclusively.
As fans and loved ones alike ask what would lead the 25-year-old linebacker to shoot his girlfriend, Kasandra Perkins, 22, numerous times and then turn the gun on himself, the NFL has to determine how they can stop this from happening again in the future.
Article continues below advertisement
"What is so disturbing for a lot of us is the tragedy that a young man seemingly thought there was no other way to go on and the only way out was to shoot his girlfriend multiple times and then turn the gun on himself," Michael Bilello, President and CEO at Centurion Strategies, a public relations and marketing agency that handles high-profile athletes, told RadarOnline.com.
"There was a murder, there was a woman who was killed and there is a child who is now going to grow up an orphan, and ask: 'Where's my mom, where's my dad?'"
As RadarOnline.com previously reported, Belcher shot and killed Perkins on Saturday morning after the pair got into a heated argument, then traveled five miles to the Chief's Arrowhead Stadium where he was met by general manager Scott Pioli and coach Romeo Crennel, and Belcher thanked them for all they'd done for him.
Upon spotting police officers arriving at the stadium, the footballer, "observed their presence and moved to an area behind a vehicle, from that position Belcher shot himself one time in the head," according to the police report. The couple is survived by their three-month-old daughter, Zoey, who is currently being looked after by Belcher's mother.
Article continues below advertisement
Belcher and Perkins had a strained relationship since the birth of their baby, claim friends, with him complaining about her going out and leaving the child at home, but no one knew quite how bad it had obviously become behind closed doors.
"Each team needs counselors that the players can talk to if they are going through a personal crisis like this," advised Bilello. "The coaches always say 'call me if you have any problems and need to talk,' but realistically these are all competitive men and they know if they do there is a risk that they will be deemed unfit to play, and if that happens there's the risk that someone else will take their place on the team, and football means the world to them."
Instead of confiding in the boss, Bilello advises, "There should be therapists who they can trust that have no input as to whether they play on Sunday or not, no matter what they are going through," he said, adding: "There needs to be more emphasis on domestic violence, relationships and family therapy.
"Set up some kind of 24 hour counseling service that players have access to where the information is held confidential so they at least feel like they have a lifeline and can talk it out. Tell them that 'before you even consider doing anything stupid then call this number.'
Article continues below advertisement
"This isn't the first or last day of your life, but unfortunately that's what these players are often told before going on the field and that's how they treat every game."
With the vast majority of players being flung into the spotlight at an early age before they've barely had any real life experience, they often don't have the coping skills they need to deal with life off the football field.
"Some of these guys really need to get relationship counseling on how to think past a sexual encounter with a woman, what a proper household is supposed to look like, what is a healthy relationship, and if you do have problems on the road then how to handle them," suggested Bilello.
"A lot of them are playing out of town and don't have family around. They have their teammates around but a lot of times you can't trust your teammates because you don't know how they are going to use your problems against you at a latter date," said the crisis expert. "It is just a horrible situation that Belcher thought a murder-suicide was the best solution for whatever he was going through."
Despite only winning one game this season before the double shooting, Kansas City quarterback Brady Quinn led the team to victory on Sunday against the Carolina Panthers, and impressed fans with his inspirational post-game speech as much as his two touchdowns.
Article continues below advertisement
"The one thing people can hopefully try to take away, I guess, is the relationships they have with people," said the former Notre Dame QB. "I know when it happened, I was sitting and, in my head, thinking what I could have done differently. When you ask someone how they are doing, do you really mean it? When you answer someone back how you are doing, are you really telling the truth?"
While Quinn's heartfelt words, which Bilello called "intelligent, articulate and 100 percent right," touched viewers across the country, he warned that is not always as easy for players to heed his advice.
"This guy (Belcher) has to compete in the NFL. He was already an underdog being a walk-on, if he had personal issues – just like if he was a soldier in the U.S. army or Afghanistan – and went to his coach, he faced the possibility of being removed," said Bilello. "And so, then he becomes really isolated and alienated, so there develop bigger issues at play here."
The biggest victim in the devastating drama that unfolded on Saturday is baby Zoey, and Bilello thinks the best way for the Chiefs to handle the crisis moving forward is to make sure she is taken care of.
Article continues below advertisement
"The right thing to do is to create a fund from the team for her. Belcher had just signed a pretty substantial contract and that money should be paid into a bank account for her in a well structured and protected trust to make sure she has a future and can move forward from this tragedy."
"There is no way to manage this crisis but something needs to be done to tackle the tougher issues rather than dismissing them with something as simple as gun control as it will merely increase the problem and we'll be talking about it again soon," Bilello told RadarOnline.com.