Brett Favre Wants Nude Photo Kept Out Of Sex Harassment Case Against Him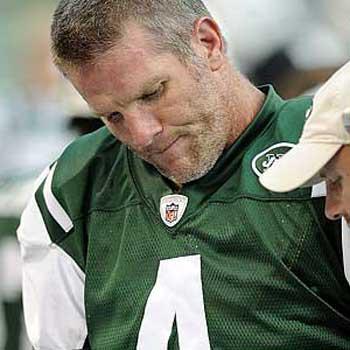 Brett Favre wants to keep his "private parts" private.
His attorney has filed papers in the sexual harassment case against the former football great asking a New York judge to ban the admission of a photo of a nude-from-the waist-down man Favre allegedly sent two New York Jets massage therapists in 2008.
The women also want Favre to be required to specifically answer if he attempted to solicit the women for sex.
Article continues below advertisement
"These requests clearly have absolutely nothing to do with this lawsuit and have been included only to harass and embarrass," Favre attorney Sharon H. Stern wrote to the Judge.
"How could they not be relevant?" Elizabeth Eilender, the attorney for therapists Christina Scavo and Shannon O'Toole, responded. "It has to do with the course of conduct in which he was engaged - unfettered, aggressive flirtation with various women."
Favre was also accused of sending cell phone pictures of his genitalia and explicit sexual messages to Jets sideline reporter Jenn Sterger. The NFL fined the quarterback $50,000 for failing to cooperate with its investigation into the matter.
EXCLUSIVE VIDEO: Brett Favre Caught On Video Singing 'We Want P**sy'
Favre had a stellar 20 year career with the NFL and holds numerous records. He retired in 2011.