Exclusive
EXCLUSIVE: Brett Favre Accuser Losing Weight From Stress, Won't Do Tell-All, Says Manager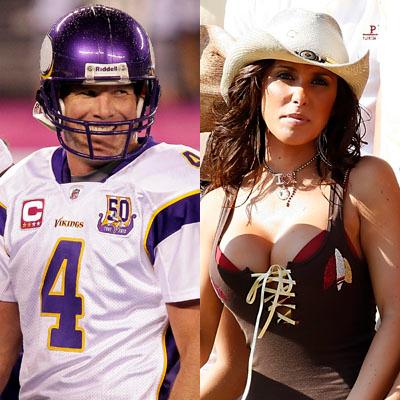 Jenn Sterger, the woman who allegedly received sexually explicit messages and images from NFL quarterback Brett Favre, has suffered so much stress from the ordeal that it has caused her to lose nine pounds, her manager exclusively told RadarOnline.com.
He also says that the sexy sideline reporter is not looking to financially benefit from the Favre situation and tells RadarOnline.com that she won't be a "Tiger Woods-type girl."
Article continues below advertisement
Favre is under investigation by the NFL for allegedly leaving sexually explicit voice mails and images to Sterger. The quarterback spoke to league investigators last week and multiple reports say he admitted to the voice mails but denied sending Sterger images of his genitals.
Sterger, a former Playboy model, has not been interviewed by the NFL since they spoke to Favre and her manager tells RadarOnline.com that she wants her privacy - but this situation has taken a heavy toll on her.
"Jenn is a strong person with a good family but she has lost 9 pounds in weight since this whole story broke," Sterger's manager Phil Reese told RadarOnline.com.
"We have had a constant dialogue with the NFL but we have not spoken to them since this latest report about Favre admitting to leaving any messages.
"His representatives have had no contact with us.
"She is not looking to capitalize on any events that took place and this is not a 'Tiger Woods-type girl' who is looking to make a name for herself through any scandal or anything like that.
Article continues below advertisement
"We support her in every way, shape and form that we can," Leo Sterger told RadarOnline.com.
When asked if this was something he was aware of at the time it was happening he said, "I've been reading about it all as it happens, just like everyone else."
Favre is now with the Minesotta Vikings and Sterger works with cable sports channel Versus.
Favre could face a suspension and hefty fine and his multi-million dollar endorsement deals also could be in jeopardy.
Article continues below advertisement
It has been reported that Favre 'fessed-up' to the NFL's president of security Milt Ahlerich about sending only voicemails.
But Deadspin, the Web site that first reported the messages and genital photos, noted that both the voicemails and the images originated from the same phone number.
On one voicemail, Favre, who is married, suggested that Sterger meet him at his hotel room.
"Just got done with practice, got meetings here for a couple more hours, then I'm going back to the hotel to just chill," he said. "So send me a text. So I'll be in the building for a couple of hours... Send me a text. I'd love to see you tonight."