Second Woman Accuses Married Football Great Brett Favre Of Hitting On Her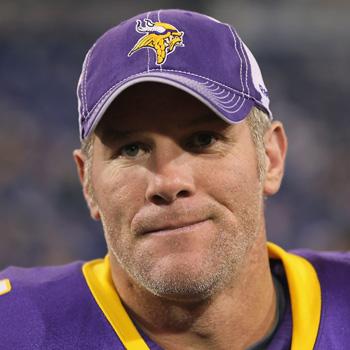 Brett Favre would rather be known for completing passes as the Minnesota Vikings quarterback, but it's passes of another kind that have him in the headlines today, RadarOnline.com has learned.
Just 48 hours after news broke that the NFL is investigating claims by a sports reporter who said Favre sent her lewd text messages and nude pictures of himself when he was with the New York Jets, a second woman is alleging he left a series of steamy phone messages for her.
Article continues below advertisement
Favre is a 41-year-old granddad and the oldest player in the league.
The scandal began earlier this year when Jennifer Sterger, who did promotional work for the Jets, told friends that Favre had bombarded her with sexy texts and even texted her photos of his genitals. Sterger, who has posed for Playboy, said she rebuffed the gridiron great.
The story has been the stuff of rumor mills until Friday, when the NFL announced it was investigating. "We are reviewing the matter, NFL spokesman Greg Aiello said.
That may have opened the floodgates.
On Sunday, the New York Post reported that a masseuse is making similar allegations. The unnamed woman was one of 17 massage therapists hired by the Jets during their 2008 training camp at Hofstra University.
According to the woman's husband, one of the messages he left on her phone was that he had "all these bad intentions," and wanted her to come over.
Favre has so far refused to comment on the charges, saying he needs to concentrate on his on-field play making.