Exclusive
EXCLUSIVE: Brett Farve Alleged Sexting Victim Goes Into Hiding Despite Appearance Requests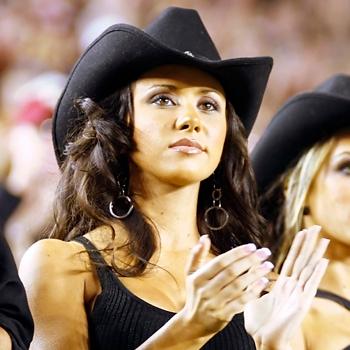 The former New York Jets sideline reporter at the heart of the Brett Favre sexting scandal has gone into hiding, RadarOnline.com has learned.
Jenn Sterger canceled an appearance last weekend at the Bull & Bear Bar and Grill in Chicago and her manager, Phil Reese, said she has no plans for appearances in the near future – even though requests have soared for in-person appearances since news of the scandal broke.
Article continues below advertisement
"There has been a lot of attention on her as a result of what is going on and she's not going to capitalize on it," Reese said.
"She doesn't want anything to do with it and is a 26-year-old girl who wants to get on with her life."
Reese said Sterger looks forward to the future and elaborated on whether or not Sterger will go in for an interview with the NFL as part of their current investigation into Viking's quarterback Favre.
"She wants to stay focused on her job and return to a somewhat normal life," Reese told RadarOnline.com.
"I do think it would be beneficial to go in and talk and submit to questioning, but ultimately it's her decision."
Reese said he's had an 'ongoing dialogue' with the NFL, adding that 'the organization has reached out to him to explore the possibility' of whether or not Sterger will go in for an interview.
MORE ON:
Celebrity Justice
Article continues below advertisement
"She's had a hard time dealing with everything so I'm not going to push her," Reese said.
In the meantime, Sterger has retained legal counsel – and as to whether she'll take further legal action, Reese would not comment.
Her lawyer Joseph Conway told the Associated Press on Wednesday his firm will advise Sterger "and pursue any potential remedies that may exist." Conway declined to comment further.
Requests for comment from the NFL have not been returned.