VIDEO: Jenn Sterger Says 'I Want My Life Back' In Wake Of Brett Favre Sexting Scandal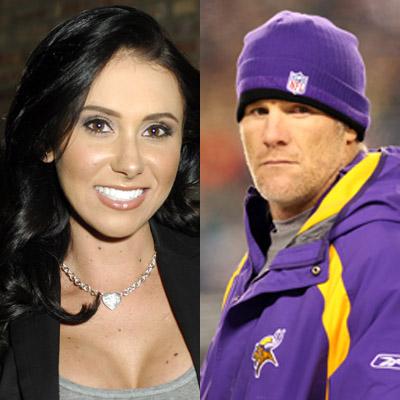 Jenn Sterger, the ex-New York Jets sideline reporter who was reportedly the target of Brett Favre's sexting indiscretions, told Good Morning America on Monday that she wants her old life back, free of the notoriety that's plagued her since the scandal broke last year.
Sterger, 27, said she's been unable to go back to work and be herself in the wake of the scandal, in which the married father-of-two reportedly sent pictures of his genitalia, racy text messages and leering voice mails during his 2008 stint on the Jets.
Article continues below advertisement
Sterger broke her silence to ABC's George Stephanopoulos after months of laying low, saying her life has been gloomy since her interactions with the three-time league MVP made national headlines.
"I just want my life back," Sterger told Stephanopoulos. "That's all I'm asking for."
Sterger said "the hardest part of this whole thing is that I am a ridiculous person ... I love to entertain people, and to say crazy things, and since the scandal, I can't be that person."
Favre, 41, was fined $50,000 by the NFL last year for his lack of cooperation in their subsequent investigation of his actions.
GMA previewed its' exclusive interview with Sterger on Monday; the full interview airs on Nightline Tuesday, and on GMA Tuesday and Wednesday.
Watch the video on RadarOnline.com
In extra quotes ABC released Monday from Sterger's upcoming interview , the brunette claims money was never her motivation throughout the series of events with Favre.
Article continues below advertisement
"I haven't made a dime off anything in this whole situation. Not from the pictures. Not from Favre. I never wanted to sue anyone. That was never an intention of mine," she said. "I'm not a gold-digger -- the only way I wanted to make my money this whole time was to just have a job."
Sterger claims that the incident has impacted her professionally, as well.
"You know, I was trying to go to work. Do my job," Sterger said. "But how are you supposed to report on the news when you are the news? It was tough. It was embarrassing. It was humiliating.