Brett Favre Fails To Apologize To Jenn Sterger For Alleged 'Sexting' Scandal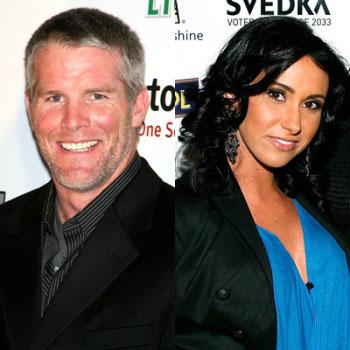 NFL superstar Brett Favre has still not apologized to Jenn Sterger for sending her illicit text messages, RadarOnline.com has learned.
Favre was fined $50,000 for his part in the 'sexting' scandal after it emerged that he had allegedly sent pictures of his genitalia to ex-New York Jets sideline reporter Jenn Sterger during his stint on the team two years ago.
But Sterger's agent Phil Reese admitted to RadarOnline.com that the Gridiron hero has still not reached-out to his client to simply say 'sorry' for the incident that tarnished his glittering career.
Article continues below advertisement
Reese revealed: "There has been no contact. Jen is doing fine though and has a few new projects in the pipeline which, hopefully, we will be able to announce soon."
And although he hasn't apologized to Sterger, Favre did provide a "very emotional" apology to his teammates back in October 2010 according to reports.
Many observers felt that Favre - who was earning $16 million a year at the time of the incident - should have received a heavier fine.
ON YOUR RADAR: Top 40 Biggest Celebrity Stories Of The Year
It would have only taken three minutes of his playing time with his last club the Minnesota Vikings to pay the $50k fine.
The league said Commissioner Roger Goodell "could not conclude" that Favre violated the league's personal conduct policy based on the evidence currently available to him.
"The forensic analysis could not establish that Favre sent the objectionable photographs to Sterger," the statement said. However, Goodell determined that Favre was "not candid in several respects during the investigation."
Article continues below advertisement
Two other former New York Jets' massage therapists filed suits against him in the wake of a lewd texting scandal.
Christina Scavo and Shannon O'Toole filed papers in the Supreme Court of New York last month.
They alleged the quarterback made passes at them while they were working for the Jets.
The lawsuits allege that Favre text messaged another woman to "get together" with Scavo for Favre's pleasure.
MORE ON:
Celebrity Justice
Scavo also alleges that Favre treated her like "a hanging slab of meat," asking for "a three-way" with the women.
He also allegedly sent a follow up text, saying: "Kinda lonely tonight I guess I have bad intentions."
The troubled NFL star recently stood-by his younger sister, Brandi Favre, after she was arrested along with five other people for allegedly creating a crystal meth lab in Diamondhead, Missouri.
Article continues below advertisement
Man-of-many clubs Favre has still not formally announced his retirement from professional football although many observers believe he has played his last game.
The 41-year-old filed his retirement papers with the NFL after finishing his 20th season but he could still change his mind and play again if he is picked up by a team and the league reinstates him.
RELATED STORIES:
VIDEO: Brett Favre Made Woman Feel Like 'Hanging Slab Of Meat'