Tim Tebow Strips Off For Vogue, Reveals He's Looking For 'Girl With A Servant's Heart'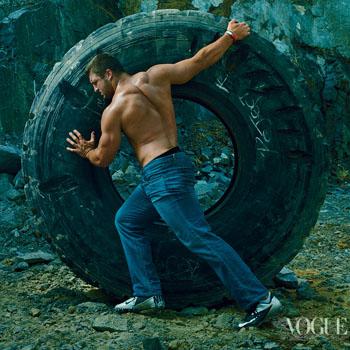 By Debbie Emery - RadarOnline.com Reporter
Tim Tebow may not have a Super Bowl ring but there's no denying that the newest addition to the New York Jets has a smoking hot body!
The controversial Christian quarterback swapped talking game plans on ESPN for a sizzling photo shoot with Vogue magazine, where he showed off his killer 6'3" physique and impressive strength by pushing a tire that was bigger than he is.
Article continues below advertisement
Inside the glossy magazine, Tebow, 25, opened up about his picky approach to women. "I've been blessed to have an amazing mom and two amazing sisters—so they set a very high standard," said the self-confessed virgin.
"Obviously looks play a big part. Being attracted to someone plays a big part, but there's also so much more than that for me. It's about finding someone sweet and kind—and that has a servant's heart," he explained.
"It's about finding a girl who likes me for me, and not because of what I do or who I am or the name."
Born in the Phillipines to Baptist missionary parents and raised in Florida, the former Gators phenomena has been open about his desire to save sex for marriage despite having a flood of beautiful women volunteering to be his first.
Tebow's abilities on the football field have sparked a hot bed of controversy, especially in light of his transfer from the Denver Broncos to the New York Jets in March, where he joined the equally young and good looking quarterback, Mark Sanchez.
Article continues below advertisement
"'You'll never make it in the NFL,'" the Heisman Trophy winner remembers critics saying. "I just love that! I try to thrive off of that—off of challenges and obstacles, overcoming them."
Rather than being bitter rivals, Tebow insists he and Sanchez are good pals. "It's not fake," he told Vogue. "I can say that honestly I'm rooting for him to do his best."
Along with a slew of female admirers and religious devotees, Tebow has a fan in Mad Men star Jon Hamm. "He's a force," said Tim's newfound celebrity pal. "Completely genuine—nice and funny and down-to-earth. First and foremost he wants to be a football player, not a media sensation or have a reality show."