Pat Robertson Calling For Divine Intervention Against The Broncos For Ditching Tim Tebow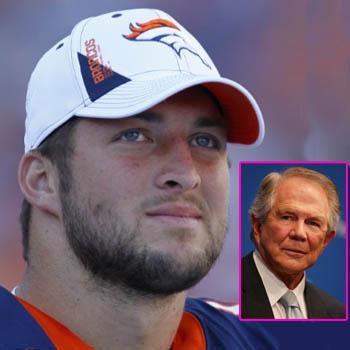 By Debbie Emery - RadarOnline.com Reporter
Christians across America are in uproar about Tim Tebow being ousted from the Denver Broncos in place of Super Bowl champion Peyton Manning, and now televangelist Pat Robertson is summoning the wrath of God against his replacement, saying it would serve the team right if their new leader got hurt.
"You just ask yourself, OK, so Peyton Manning was a tremendous MVP quarterback, but he's been injured. If that injury comes back, Denver will find itself without a quarterback. And in my opinion, it would serve them right," Robertson said on The 700 Club, which airs on the Christian Broadcasting Network.
Article continues below advertisement
"The Denver Broncos treated him shabbily," claimed the leader in the Christian Right movement. "He won seven games, he brought Denver into the playoffs, for heaven sakes. I mean, they were a nothing team. He rallied them together with spectacular last-minute passes and, you know, when they beat Buffalo — I mean, Pittsburgh, excuse me — it was a tremendous victory."
As RadarOnline.com previously reported, the deeply religious quarterback was traded to the New York Jets on Wednesday following his position at the Denver Broncos being filled by former Indianapolis Colts star player Manning.
At 6-foot-3 and 238-pounds, Tebow rocketed from a college football sensation to a household name last year, when he led the Broncos to a string of last minute comebacks that were always celebrated with his signature move of dropping down on one knee to pray, which was dubbed Tebowing by NFL commentators.
It's not the first time that Robertson has come to Tebow's defense, he spoke out about a hilarious Saturday Night Live skit that mocked the Florida native's religious beliefs by having Jesus (played by Jason Sudeikis) admit that he was taking no responsibility for the team's less than stellar play during the first three quarters of those games, and suggesting that Tebow spend more time with the playbook and less time with the Bible.
Article continues below advertisement
"Take it down a notch," 'Jesus' told 'Tebow.'
Robertson accused the sketch, that aired last December, of being an example of "the anti-Christian bigotry in this country that's just disgusting.
"If this had been a Muslim country and they had done that and had Muhammad doing that stuff, you would have found bombs being thrown off and bodies on the street," he said.
RELATED STORIES: