Tim Tebow Love Triangle: Dianna Agron's Glee-ful Dilemma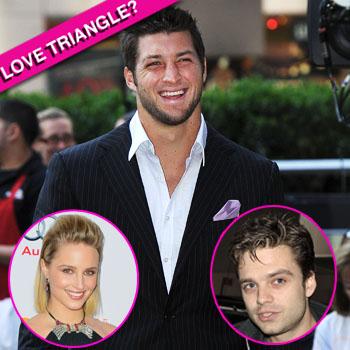 It's a love triangle fraught with song covers and pass coverage: the newest New York Jet Tim Tebow, Glee damsel Dianna Agron and killer-looking star of Kings, Sebastian Stan.
Stan, 28, has been seeing Agron, 25, for the better part of the last year, the NY Post reports, but Tebow's interest in Agron has complicated matters.
"Tim has made no secret that he likes Dianna, and told her so, but she has remained faithful to Sebastian," a source told the paper, adding that Stan and Argon recently split due to distance issues, as Agron's on the West Coast while Stan lives on the East Coast.
Article continues below advertisement
Argon's rep told the paper speculation about the break-up was "not true."
In the meantime, ESPN reports the man behind Tebowing has signed with the New York Jets after Peyton Manning's arrival in high altitudes all but ensured the scrambling passer would be plying his craft in colors other than blue and orange this upcoming season.
As for Argon -- that situation's not as cut and dry. Either way, we'll keep you posted right here on RadarOnline.com.