Peyton Manning Signs $96 Million Deal With Denver Broncos, Where Will Tim Tebow Pray Next?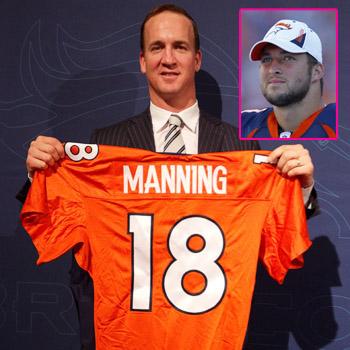 Article continues below advertisement
"I want to be where I was before I was injured. There's a lot of work to do to get where we want to be from a health standpoint."
While the Broncos have not officially released Tebow yet, the high paycheck that they will be paying the former Indianapolis Colts Super Bowl champ – who will get a guaranteed $18 million next season – has sealed the fate of the 24-year-old after Manning, 35, picked Denver as his new team.
Tebow rocketed from a college football sensation to a household name last year when he led the Broncos to a string of last minute comebacks that were always celebrated with his signature move of dropping down on one knee to pray, which was dubbed Tebowing by NFL commentators.
Now the deeply religious player will be looking for a new team to bring the gift of God to, with dedicated followers around the country hoping that they will be blessed by his presence despite his inconsistent play and doubts about his style being a good fit for the NFL.
MORE ON:
Saturday Night Live
Article continues below advertisement
Top teams in the running for an influx of Tebowmania are the Jacksonville Jaguars, the Green Bay Packers, the San Francisco 49ers, the Miami Dolphins and the New York Jets.
One spot that would no doubt make him the topic of many sports headlines and even more Saturday Night Live skits would be to join the New England Patriots and play alongside Tom Brady.
Wherever Tebow lands, odds makers are already predicting that his successor will lead Denver to the Super Bowl next year, which will be played in Manning's home town of New Orleans.