NFL Star Peyton Manning Signs With Denver Broncos, Tim Tebow To Be Traded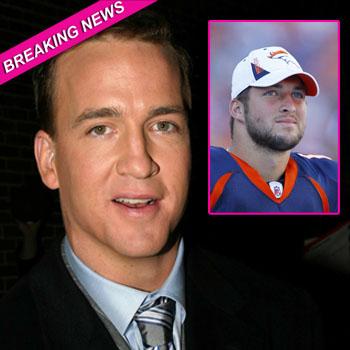 By Debbie Emery - RadarOnline.com Reporter
The bidding war for star quarterback Peyton Manning is over. It was announced Monday the Super Bowl champion will sign with the Denver Broncos, so that means Denver's current QB Tim Tebow will likely soon be packing his bags.
The deal end weeks of speculation as teams including the San Francisco 49ers, Tennessee Titans, Miami Dolphins and Arizona Cardinals were all rumored to be keen to snag the the four time MVP player.
Article continues below advertisement
As RadarOnline.com previously reported, Manning, 35, was released by the Colts on March 7 after playing for Indianapolis for 14 years, during which he bid a tearful goodbye to the team that had been his home throughout his career.
Manning's new role in Denver is bad news for Tebow, who according to sources at ESPN, will now be traded, ridding them of a QB whose popularity and knack for dramatic comebacks has overshadowed his many downfalls on the field.
The highly religious player may now return to his home state of Florida if interest from the Miami Dolphins and the Jacksonville Jaguars become reality. Another rumor circulating the sports world is that the New England Patriots may pick him up to play under Tom Brady.
It is expected that Peyton will draft a a five-year, $95 million contract, similar to what was discussed during his first meeting with vice president of football operations John Elway on March 9.
Article continues below advertisement
A former Super Bowl champ himself, Elway flew to North Carolina on Friday to watch Peyton throw, and he was mightily impressed with his performance.
"We enjoyed visiting with Peyton today in N.C.," Elway tweeted on Friday. "He threw the ball great and looked very comfortable out there. Watching him throw today was the next step in this important process for our team and Peyton. It was a productive visit and went well."