NFL Star Quarterback Peyton Manning To Be Cut From The Indianapolis Colts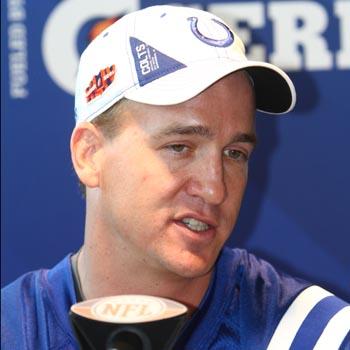 By Debbie Emery - RadarOnline.com Reporter
Looks like Rob Lowe was right all along!
What was once the most perfect match in the NFL will be over on Wednesday when the 14-year union between star quarterback Peyton Manning and the Indianapolis Colts comes to an end.
While there will no doubt be suitors lining up to woo the Super Bowl champion and four-time MVP as soon as his release is official, the news is a heavy blow for Colts fans who hoped that the 35-year-old would return to lead the team next year after suffering a neck injury that sidelined him for the whole of last season.
Article continues below advertisement
Instead a source has revealed to ESPN.com NFL expert Chris Mortensen that the team will announce his release in a special news conference on Wednesday with Manning and team owner Jim Irsay in attendance, following months of deliberations over his future in Indy.
After having three surgeries to fuse the vertebrae in his neck over the past 19 months, Peyton – who will turn 36 later this month - has been medically cleared to resume his career, has increased his throwing regimen and has been taking part in aggressive practice sessions over the past few days.
The decision to pass on the $28 million bonus owed to Manning and to not pick up the four remaining years on his contract means Manning will become a highly coveted free agent.
The former Tennessee college star went on to break all of Indianapolis' career records for quarterbacks and had never missed a start before last season. He's taken the Colts to the playoffs 11 times, captured seven AFC South titles in eight years, won two AFC championships, one Super Bowl title and a Super Bowl MVP Award.
Article continues below advertisement
Coming from a family of footballers it is unlikely that Peyton will retire until he has to. His younger brother, Eli Manning, led the New York Giants to their second Super Bowl win against the New England Patriots last month, and his father Archie Manning was a NFL quarterback for the New Orleans Saints throughout the 1970s.
Manning's departure makes room for Stanford quarterback Andrew Luck, who is expected to be picked up by the Colts with their number one draft pick next month.
As RadarOnline.com previously reported, Rob Lowe caused a Twitter storm back in January when he tweeted that Manning was going to imminently announce his retirement.
"Hearing my fave, #18 Peyton Manning will not return to #NFL. Wow," Lowe wrote, followed by a question to sports analyst Rich Eisen: " My people are saying Manning will retire today. What do you hear?"
Fun fact: The whopping pay check it would have cost the team to keep the aging quarterback represents the annual income of 1,294 Indianapolis residents!