Rob Lowe Creates Twitter Storm By Announcing 'Peyton Manning Will Not Return To The NFL'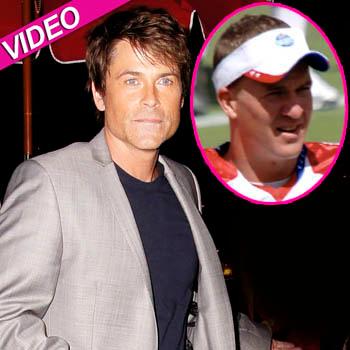 By Debbie Emery - Radar Reporter
Brat Pack founder, sex tape star, TV actor, and now NFL pundit - who knew Rob Lowe was so multi-talented?
The former West Wing star caused a storm of speculation on Wednesday when he tweeted that football hero Peyton Manning was going to announce his retirement before the end of the day.
"Hearing my fave, #18 Peyton Manning will not return to #NFL. Wow," Lowe wrote on Twitter, followed by a question to sports analyst Rich Eisen: " My people are saying Manning will retire today. What do you hear?"
Article continues below advertisement
Now the St. Elmo's Fire star is trying to put out the flames that he sparked by appearing on Thursday's Ellen DeGeneres Show to explain his controversial statement, and RadarOnline.com has a preview of their couch chat.
"I'm a huge, huge Peyton Manning fan…And a huge, huge Colts fan," Rob explained to Ellen.
"I tweet every week about sports. About, who they should fire. Who they should hire. I do, I'm like a regular guy who has his opinions and stuff.
"So I was tweeting that I heard this might be in the offing and then you learn the power of Twitter. That's a powerful, powerful medium."
When asked if his prediction was true, Lowe tried to back-peddle from his initial statement. "I hope it is not true. I hope against hope it's not true," he said.
The NFL rumor mill has been flooded with whispers that the 35-year-old Super Bowl winning quarterback may be done after a severe neck injury forced him on the sidelines all season, resulting in his beloved Colts having the worst record in the league and only winning two games all year and coach Jim Caldwell to be fired on Tuesday.
Article continues below advertisement
Lowe's revelations are far from just the opinions of a mere fan, the 47-year-old actor is currently starring in Parks And Recreation, which is filmed in Indiana, and is good friends with Colts owner, Jim Irsay.
Irsay's ailing team is expected to use their number pick in the upcoming NFL draft on Stanford quarterback Andrew Luck, which could put Manning's job in jeopardy.
Instead of confirming or denying Lowe's claim, the team owner tweeted back: "My sources tell me Rob will star in an epic remake of Deep Throat with aging porn stars and 4 finger circus clowns!" a cheeky reference to Lowe's infamous 1988 sex tape during the Democratic National Convention.