Watch Out George Clooney & Alec Baldwin: Meryl Streep Kisses & Tells!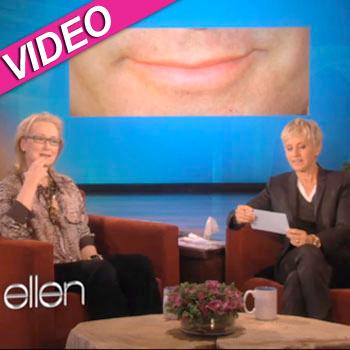 By Leah Ornstein - Radar Style & Beauty Editor
When you've kissed as many Hollywood heartthrobs and big screen bombshells as Meryl Streep, it can be hard placing a name to the lips!
Ellen DeGeneres put the Academy Award winning actress to the test on her talk show Thursday, challenging her to a kiss and tell game, where she had to guess her scene partners by images of the lips she's kissed – and RadarOnline.com has the hilarious video.
Article continues below advertisement
When the first set of lips, which belonged to Alec Baldwin, splashed across the screen, The Iron Lady star was stumped, asking: "I have no idea. Is that George Clooney?"
Some of the lips she identified included Bruce Willis, whom she didn't remember kissing, Clint Eastwood, Emma Thompson, Steve Martin and Albert Brooks.
Whose smacker did Streep have the most trouble identifying? Sandra Bullock, who she smooched on the stage of The Critics Choice Awards.