Meryl Streep On Vogue Cover For The First Time; Says She Thought She Was Finished 20 Years Ago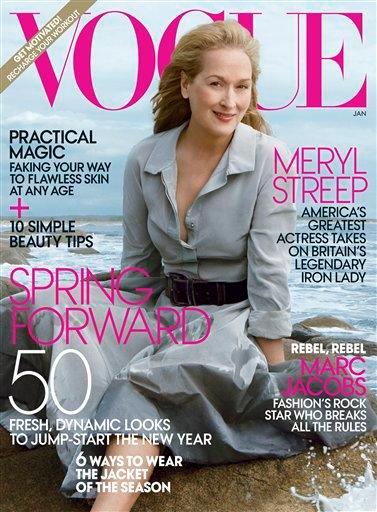 In her first appearance on the cover of Vogue, perennial A-lister Meryl Streep tells the fashion mag she believed her career was over 20 years ago -- when she was offered to play a witch three different times after turning 40.
The Kramer vs. Kramer star tells the January's issue of Vogue she told her husband, "It's over," referring to her career, as she said the witch offers told her Hollywood finds women her age "grotesque on some level."
Article continues below advertisement
Of course, Streep's career has been doing better than ever, with hits like Julie & Julia, The Devil Wears Prada and Mamma Mia! under her belt in the past decade.
Streep, 62, plays former British Prime Minister Margaret Thatcher from ages 49 to 85 in the upcoming film, Iron Lady.
Fun Fact: Streep has been nominated for an Academy Award for acting 16 times, more often than any other actor or actress. (She's won two awards.)