Mad Men Child Star: 'Be Careful Around January Jones'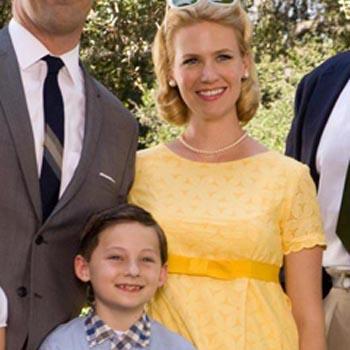 By Adam S. Levy - RadarOnline.com Staff Writer
January Jones: A-list name, B-list (as in "bad") attitude?
Seems to be the case, at least according to those who've crossed paths with the Mad Men beauty.
The latest to go public with tales of Jones' surly reputation is Jared Gilmore, the 11-year-old child actor who left Mad Men for a role on ABC's Once Upon a Time.
Asked what advice he'd give his replacement, he told TV Guide that new faces on the set of the AMC hit should walk on eggshells around the 33-year-old actress, who played his mother on the show.
Article continues below advertisement
"Be careful around January ... she's not as approachable as the others," he said. "She's really serious about what she does.
"Everyone else is so nice." (We'd take it from this remark she's not so nice -- even to kids!)
Little Jared's not the only one to have a less-than-fond memory of their time alongside the calendar girl.
The Hangover funnyman Zach Galifianakis recalled a testy exchange he had with the blonde beauty, in an May interview with the website Shortline.
"I was at a party -- I'd never met her -- and she was like, 'Come sit down.' So I sit at her table and talk for 10 minutes, and she goes, 'I think it's time for you to leave now,'" the bearded actor said. "So I say, 'January, you are an actress in a show and everybody's going to forget about you in a few years, so f**king be nice,' and I got up and left."
RELATED STORIES: