Exclusive
Meryl Streep As Margaret Thatcher In 'The Iron Lady' - First Look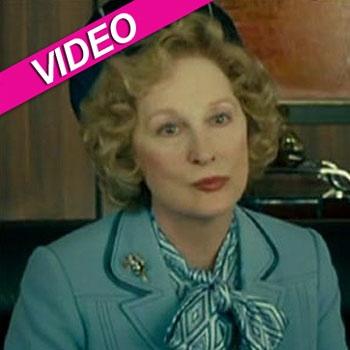 It's handbags at dawn for Meryl Streep as she steps into the shoes and pearls of Margaret Thatcher in the upcoming movie The Iron Lady, and RadarOnline.com has a sneak peak.
Baring a striking resemblance to the formidable former British prime minister, Streep is seen putting her foot down as two of her advisors, played by Roger Allum and Gordon Reece, attempt to lecture her on her public image.
Article continues below advertisement
Instructed to get rid of her hat, lower her voice and ditch her pearls, she says: "I may be persuaded to surrender the hat. The pearls, however are absolutely non-negotiable."
Thatcher made history in politics when in 1979 she became the first British female prime minister.
And her pearls, scarves and particularly her handbags were a symbol of her uncompromising style. The movie is set to hit the big screen in January 2010 and revolves round Thatcher's private life and rise to power.