Lady Gaga, Justin Bieber And George Clooney Named Most Charitable Celebs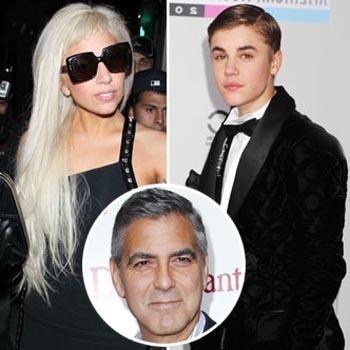 Lady Gaga tops this year's annual Celebs Done Good list put out by DoSomething.org. Justin Bieber has the No. 2 spot, and George Clooney rounded out the top three.
Already well-known for her work against AIDS and for gay rights, in 2011 Gaga turned her attention to putting an end to bullying, even bringing her fight to the White House. She also set up the Born This Way Foundation, to help empower youth.
Article continues below advertisement
Bieber, the youngest person on the list, works with Pencils of Promise, an organization which has built 41 schools in Laos, Nicaragua and Guatemala. It was founded by Adam Braun, the brother of the singer's manager, Scott "Scooter" Braun. Biebs has also donated hundreds of thousands of dollars to the Make-A-Wish Foundation, Toronto's Daily Bread Food Bank and Children's Wish Foundation, and Whitney Elementary School in Las Vegas, where more than half the students are homeless.
Clooney continued his advocacy for the victims of the political turmoil in the Sudan, something he has spearheaded for the last six years.
Rounding out the top 10 are: Will and Jada Smith, Leonardo DiCaprio, Matt Damon, Ellen DeGeneres, Brad Pitt and Angelina Jolie, Dwight Howard, and Demi Lovato.
RELATED STORIES: