NFL Star Peyton Manning Fights Back Tears As He Says Goodbye To The Indianapolis Colts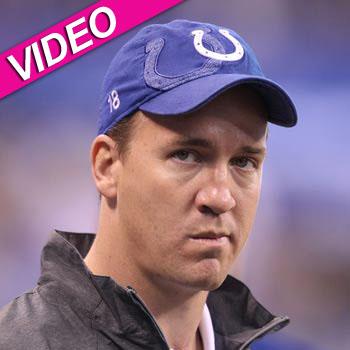 By Debbie Emery - RadarOnline.com Reporter
NFL star Peyton Manning is as tough as nails on the football field, but even he had to struggle to fight back the tears as he made the official announcement that he is leaving the Indianapolis Colts after 14 seasons with the team.
"This town and this team mean so much to me. It truly has been an honor to play in Indianapolis," the 35-year-old star quarterback said in a news conference on Wednesday.
Article continues below advertisement
"I do love it here. I love the fans and I will always enjoy having played for such a great team. I leave the Colts with nothing but good thoughts and gratitude to Jim, the organization, my teammates, the media, and especially the fans," he said, as his eyes welled up.
"I've been a Colt for all my adult life ... but we know nothing lasts forever. Our circumstances make it best for us to take this next step."
As RadarOnline.com previously reported, sources leaked the news of the imminent departure to NFL expert Chris Mortensen, who revealed on Tuesday that the team and owner Jim Irsay were planning to release Manning.
Despite their parting of ways, Manning had fond words for his boss and mentor. "Jim and I have always been close and we made a lot of great memories together," he said with a heavy heart. "Jim, I will be forever grateful."
Article continues below advertisement
Irsay responded with mutual support to the player that had led his team to countless seasons and one memorable Super Bowl victory.
"There will be no other Peyton Manning," he said, also getting emotional. "We've been so blessed to have him. He's always part of the horseshoe."
While there will no doubt be many teams lining up to woo the Super Bowl champion and four-time MVP, the news is a heavy blow for Colts fans who hoped that he would return to the lead the team next year after suffering a neck injury that sidelined him for the whole of last season.
"I haven't thought yet about where I'll play, but I have thought a lot about where I've been. I have been truly been blessed, I have been blessed to play in the NFL," said Peyton.
The undisputed team leader had a special message to the fans in Indianapolis and across the country. "Thank you very much from the bottom of my heart, I truly have enjoyed being your quarterback."
After having three surgeries to fuse the vertebrae in his neck over the past 19 months, Peyton -- who will turn 36 later this month -- has been medically cleared to resume his career and has increased his throwing regimen and has been taking part in aggressive practice sessions over the past few days.
Article continues below advertisement
The decision to pass on the $28 million bonus owed Manning and not to pick up the four remaining years on his contract means Manning will become a highly coveted free agent.
The former Tennessee college star went on to break all of Indianapolis' career records for quarterbacks and had never missed a start before last season. He's taken the Colts to the playoffs 11 times, captured seven AFC South titles in eight years, won two AFC championships, one Super Bowl title and a Super Bowl MVP Award.
Coming from a family of footballers, it is unlikely that Peyton will retire until he has too. His younger brother, Eli Manning, led the New York Giants to their second Super Bowl win against the New England Patriots last month, and his father Archie Manning was a NFL quarterback for the New Orleans Saints throughout the 1970s.
Manning's departure makes room for Stanford quarterback Andrew Luck, who is expected to be picked up by the Colts with their number one draft pick next month.
Article continues below advertisement
Who Is Tim Tebow's Latest Adversary? Seven Things You Didn't Know About Brady Quin