Seven Things You Didn't Know About Tim Tebow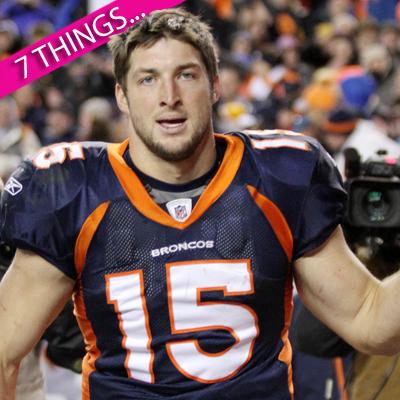 String of dramatic comeback victories -- check! A skit on Saturday Night Live in his honor -- check! A dramatic touchdown pass to win a playoff game in overtime -- check!
Yes, Tim Tebow has accomplished an awful lot in his first pro season at the helm of the Denver Broncos, adding another chapter to his storybook career with an 80-yard touchdown pass to wide receiver Demaryius Thomas that sealed his team's 29-23 victory over the favored Pittsburgh Steelers in the AFC wild-card game Sunday.
Article continues below advertisement
With that in mind, we've got some new intel on the NFL breakout star and devout Christian, as we give you seven things you don't know about Tim Tebow.
7. Arms or legs, he can beat you either way: Like Michael Vick, Tebow is lauded for his ability to create plays by running the football when a passing play doesn't present itself. During his 2007 campaign at the helm of the Florida Gators, Tebow became the first college football player to both run and throw for 20 or more touchdowns in a single season.
6. He's a toy store near you: Move over He-Man! Tebow's amazing popularity inspired sports toy manufacturer McFarlane Toys to release three plastic incarnations of No. 15, from his Florida days to his stint with the Broncos.
5. Ka-Ching: Even in this sluggish economy, Tebow gets people to open their wallets in his honor. His Broncos jersey has been one of the NFL's hottest-selling items since he was drafted in 2010, as it set a draft record for jersey sales, was the league's top-selling jersey in each month since he was drafted; and putting the Broncos on top in jersey sales by team.
Article continues below advertisement
4. His contemporaries are not just Tom Brady and Aaron Rodgers, but Spider-man and The Incredible Hulk: Marvel artists immortalized the quarterback as a superhero called "Super Tim" for a piece on ESPN's Sportscenter. Said Marvel Custom Solutions' Bill Rosemann: "Like the Marvel heroes who pull off last minute victories, Tim Tebow has fans around the world on the edge of their seats and believing that — in our own lives — when time is running out and all looks lost, we can dig deep inside and use our various strengths to triumph over insurmountable odds."
3. Won't you be his neighbor? Tebow was recently voted the best celebrity neighbor for 2012, with 11 percent of voters saying they'd like to see him pull up in the next driveway. Tebow edged some A-list names for the honors: Angelina Jolie and Brad Pitt (10 percent), and Jennifer Aniston and Justin Theroux (9 percent of the vote).
2. Despite the amazing amounts of attention, he's still under a million Twitter followers: His verified Twitter account has just more than 871,000 followers as of early Monday, a figure that's sure to grow as the Broncos continue through the post-season. Still, with less than a million followers, the crossover star is well behind all three Kardashian sisters, Justin Bieber and Lady Gaga.
Article continues below advertisement
1. He's a video game tough guy, literally: In this year's edition of the Cadillac of football video franchises — Madden -- the rugged quarterback was ranked a near-perfect 98 in the toughness category, tying seven other players for the technical thumbs-up.
Tebow and the Broncos continue their march toward the Super bowl Saturday, when they hit the road to face Tom Brady and the New England Patriots.