Thanks For The Tip Peyton! Waiter Fired After Posting Manning's Receipt Online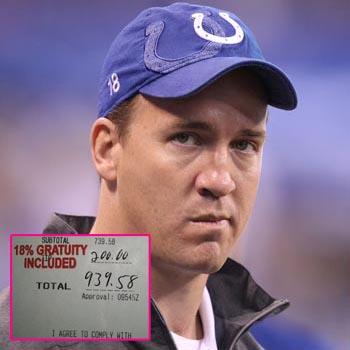 By Debbie Emery - RadarOnline.com Reporter
If Peyton Manning thought he was having a rough week after being cut by the Indianapolis Colts, what about the poor waiter who served him at a North Carolina steakhouse?
The admiring football fan, known only as Jon, was so overwhelmed by the whopping $200 tip that the four-time NFL MVP left him on a $739.58 check that he posted the receipt online, reported DeadSpin.com.
Article continues below advertisement
Unfortunately, the server's boss was not quite as impressed and gave him a far less gracious send off than Manning got from the Colts on Wednesday when he said a tearful goodbye to the team after 14 years, and kicked the waiter to the curb.
"This goes against every policy we have," said Van Eure, owner of the Angus Barn in Raleigh. "It's just horrible."
Manning, 35, had been in North Carolina working out at Duke University to rehab his throwing arm when he popped into the steakhouse with some hungry pals, including now former teammate Dallas Clark.
Despite a red stamp stating that 18 percent gratuity was already included, the Super Bowl champ generously slapped an extra $200 on the total for the waiter.
Now both Peyton and Jon are unemployed and looking for work, and while we're sure Manning won't have any trouble getting a new gig, we can't be so sure about the guy who brought him his steak.
RELATED STORIES:
NFL Star Peyton Manning Fights Back Tears As He Says Goodbye To The Indianapolis Colts