Exclusive
Octo-Mom Has Police Report Filed Against Her For Allegedly Stealing $7K Diamond Ring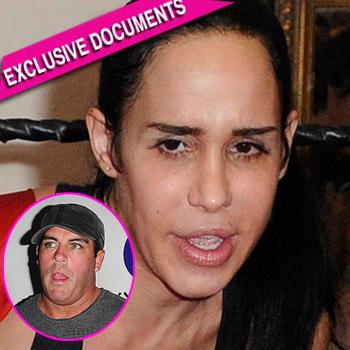 By Amber Goodhand - RadarOnline.com News Editor
Nadya 'Octo-Mom' Suleman accepted a 1.5 carat diamond ring from Celebrity Boxing founder Damon Feldman as part of a proposal photo stunt, and RadarOnline.com has exclusively learned Feldman filed a police report claiming he never got the ring back!
Feldman claims that during an entertainment event in Pennsylvania in February, 2012, he made a marriage proposal to Nadya "strictly for publicity" and gave her a $7,500 diamond ring that actually belonged to his ex-wife and because it hasn't been returned, he filed an Incident Report against the mother of 14 with the Marple Township Police Department on Tuesday.
Article continues below advertisement
EXCLUSIVE DOCUMENTS: See The Police Report Filed Against Octo-Mom For $7,500 Diamond Ring
"The proposal and ring presentation was done with the understanding between both parties that it was only for publicity purposes," the report obtained exclusively by RadarOnline.com states.
"Since that time, the business relationship between Suleman and Feldman has ended and Suleman has not returned the ring. In the past month, Feldman has made numerous attempt to contact Suleman and her manager, Gina Rodriguez. He has not received a return contact from either party nor have they returned the ring."
Feldman exclusively tells RadarOnline.com, "You know her manager does a lot of PR stunts so she wanted me to do an engagement piece, which I did because I was guaranteed $5,000.
"I never got my money and I never got my ring back. The ring is my ex-wife's and she wants it back. Gina said Nadya would just have to wear the ring for a few weeks and since I trusted her because I've worked with her a lot, I let her and then never got the ring back."
Article continues below advertisement
According to the Incident Report, the Marple PD will not be investigating the incident and Feldman will have to file a civil lawsuit.
"Feldman was informed by police and he understood that this is a civil matter, not a criminal investigation by Marple Police," Detective Michael Sharkey wrote in the document.
"Marple Police will not be contacting Suleman or her manager. Feldman and his attorney intend to file a civil suit for the actual return of the ring or the estimated $7,500 cost of the ring."