Exclusive
Octo-Mom Was So Drunk She Didn't Remember Paying To Get Her Hair Done, Claims Stylist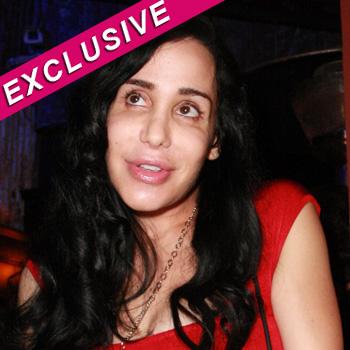 By Amber Goodhand - RadarOnline.com News Editor
Nadya 'Octo-Mom' Suleman is in rehab for an addiction to Xanax, but sources close to her exclusively tell RadarOnline.com that she also struggles with alcohol, and her former hairstylist claims Nadya got so wasted while getting her hair done that she forgot whether or not she paid!
According to Stephanie O., she showed up at Nadya's home on April 17, 2012 at 6 p.m. to cut and color her hair as well as give haircuts to her two oldest children -- and not only did the children get locked away in a room, but by the time she was finished nearly five hours later, Nadya was "acting as if she was intoxicated."
Article continues below advertisement
"I arrived at her house at six o'clock, and as I started to cut her daughter's hair, Nadya put the eight babies in their room with a movie on," Stephanie told RadarOnline.com in an exclusive interview.
"Then the oldest son Elijah came and put a chair against the door, locking the babies in the room. I asked him, 'Why did you lock them in there?' His response was, 'My mom told me to do it because the babies get out if it's not locked and get into the food.'"
Stephanie said that while she gave Nadya a Brazilian blowout, the mother-of-14 sipped on a water bottle filled with cranberry juice, which she believes also had vodka in it.
"As I was doing her hair she was acting as if she was intoxicated. It was difficult to do her hair because it seemed as if she was passing out or nodding out," Stephanie said.
"Not to mention, not once during the time I was there doing her hair did she ever check on the babies or the other children."
Article continues below advertisement
Stephanie tells RadarOnline.com she finished up around 11 p.m. and Nadya wrote her a check for $320.
"My name was misspelled and illegible. I then left her house at 11:15 p.m. and the babies were still locked in the room and not checked on. I had been there for five hours!" she said.
"The next morning I received a call from Nadya asking if she paid me. I responded with, 'Yes, you wrote me a check for $320, you don't remember?' She replied, 'No, I had a little too much to drink.'
"I told her she seemed kind of out of it when I left, and she then told me that she had been drinking. I later found out that she was drinking vodka and cranberry juice the whole time I was there."
As RadarOnline.com first reported, Nadya's own father, Ed Doud, also had concerns about her drinking habits, and in a voicemail exclusively obtained he was heard telling a former childcare giver that he doesn't think Nadya should drive the children around.
Article continues below advertisement
"Gina, this is me, Ed. I'm worried about Nadya. She's not answering the phone. And I really worry about her," he says on the voicemail.
"Sometimes she starts drinking vodka, whatever, so maybe she should not be driving. I could pick up the kids tomorrow, I mean the big kids. I don't know what to say. I have no idea what to say. She cannot drive the kids and drive herself and drive back here."
RELATED STORIES: