Exclusive
Octo-Mom's Dad Concerned About Her Drinking & Driving With The Kids In The Car: Listen To The Voicemail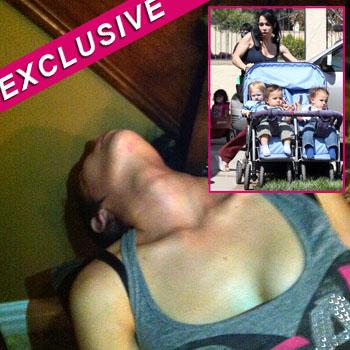 Article continues below advertisement
"Gina, this is me, Ed. I'm worried about Nadya. She's not answering the phone. And I really worry about her," he says on the voicemail.
"Sometimes she starts drinking vodka, whatever, so maybe she should not be driving."
Ed makes reference to his concern for the grandchildren and says he doesn't think Nadya should be driving.
"I could pick up the kids tomorrow, I mean the big kids. I don't know what to say. I have no idea what to say," he says.
"She cannot drive the kids and drive herself and drive back here."
According to Gina, Nadya puts vodka in a water bottle filled with cranberry juice.
"Her drink of choice is cheap vodka and diet cranberry juice," Gina revealed.
"When I had the babies I could tell by her voicemails and text messages she was drinking. She would repeat entire conversations we had the next day because she forgot she had already told me."
Article continues below advertisement
radar_embed service=5min.com src=" http://pshared.5min.com/Scripts/PlayerSeed.js?sid=1126&width=486&height=412&playList=517713899&sequential=1&shuffle=0"
On July 18, 2012, Gina claims she had the eight youngest children at a friend's house so they could swim and when Nadya came by to pick them up she showed up late, asked for a glass of wine, and then got so intoxicated she was unable to drive the children home.
RadarOnline.com has obtained exclusive video footage of that night in which Nadya admits she's been drinking and Gina is heard telling her that she cannot drive, as well as a photo of Nadya allegedly passed out on a chair in the house.
"I had the eight kids and she was meeting me with the older six. She was over three hours late and barely in the door when she asked me for wine," Gina said.
"Nadya finally got some champagne as the host had no wine, but it turns out she was already drinking vodka cranberry from a water bottle while driving to the house.
Article continues below advertisement
"Eventually she was packing the car to drive home but of course I would not allow her to take the kids so I asked an acquaintance of hers to pick her and the older six up. I took the eight babies back to my house."
As RadarOnline.com previously reported, Gina told CBS2 she witnessed child neglect and sexual abuse while nannying for Nadya's children, but after reviewing the case the Orange County District Attorney's Chief told RadarOnline.com there was "insufficient evidence to file charges against Nadya Suleman or her parents."
Gina did not receive payment from RadarOnline.com for this story. A donation in return for the audio, photos and video, was made to a children's charity of Gina's choice.
Meanwhile, on the heels of RadarOnline.com's exclusive story about her drinking, a report has surfaced that Suleman has now checked into rehab.
radar_embed service=5min.com src=" http://pshared.5min.com/Scripts/PlayerSeed.js?sid=1126&width=486&height=412&playList=517713900&sequential=1&shuffle=0"