Octo-Mom Shocker: Claim Her Children Are Sexually Abusing Each Other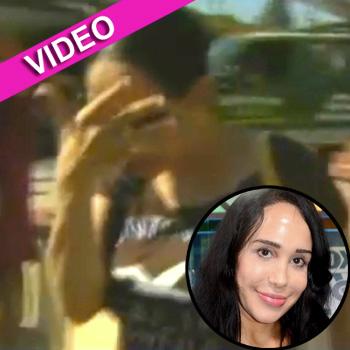 Article continues below advertisement
Two nannies who worked for Nadya Suleman claim they witnessed child neglect and sexual abuse in Octomom's La Habra home, CBS2 reported Thursday.
"I feel like those children are in danger," one of the nannies told Los Angeles CBS2's Stacey Butler. "I think something is going to happen to those children if nothing is done."
According to CBS2, the La Habra police detectives called one of the women into the station for an interview and have completed their investigation into the alleged abuse and said they plan to send the case to the Orange County District Attorney's Office within the next several days.
One of the nanny's shocking allegations includes claims of sexual abuse by the older boys on a younger sister.
"(One of the boys) would take (his sibling) away and take her to another area. And he would be touching her. I told Nadya everything. She never did (anything). 'It's okay, don't worry about it.' That was her attitude," the woman said.
The nannies were apparently so worried about the children that they placed letters in every mailbox on Octo-mom's street, begging for help, writing: "please have social services check Nydia's sic home. There are things going on in the home that need attention right away. The octuplets are not safe. You will be sorry for not checking out now if something bad happens later."