Desperate Octo-Mom Sets Up Website Begging For Money For New Home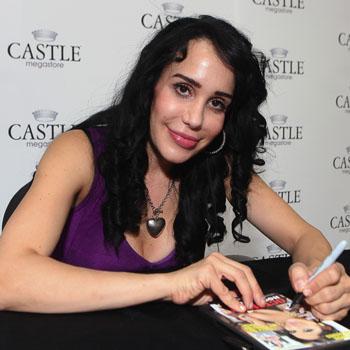 Cash-strapped Nadya "Octo-Mom" Suleman has a new strategy to get a roof over her head: begging.
The mother-of-14 -- who has appeared in a porn film, a boxing ring and onstage at a strip club to make ends meet this summer -- has set up a page on the website GoFundMe.com in hopes of drumming up $150,000 so she can put a down payment on a home (after her last one was foreclosed on).
The 36-year-old writes on her page: "Thank you so much for taking the time to visit my page. I am having to move out of my home soon and i'm sic very close to being able to buy a home for my kids. Your support is appreciated. Thank you again, Nadya Suleman."
Article continues below advertisement
The plea for charity stands in stark contrast to her words in an interview earlier this month, in which she said she'd achieved a measure of financial independence.
"I am so grateful for all the amazing opportunities that have come my way and I am finally in a stable situation," Suleman told E!. "I will keep working as much as I can to take care of my children."
Suleman gained the world's attention January 26, 2009 when she gave birth to octuplets at a Southern California hospital. All 14 of her kids have come as a result of in-vitro fertilization.